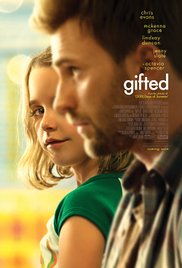 Gifted is admittedly schmaltzy and formulaic, but it fits a current void in our cinematic options for chick flick dramas. It plays a bit like a Nicholas Sparks movie – but with a smartass kid, a scene-stealing one-eyed cat, and the hunky Chris Evans (Captain America) as what one character describes as "the quiet damaged hot guy" at the bar. Evans plays Frank Adler, a single man raising his spirited young niece Mary (McKenna Grace) in a quiet coastal town in Florida. He's been home-schooling the girl, but wants her to socialize more with other kids. So he sends her to public school, where her teacher Bonnie (Jenny Slate) soon discovers that Mary is a math prodigy. That discovery sets in motion a debate over Mary's education, and a custody battle between Frank and his domineering mother Evelyn (Scottish actress Lindsay Duncan).
Octavia Spencer (Hidden Figures, The Help) shows up periodically in a small, underdeveloped role as Roberta, Frank and Mary's landlady and best friend. She's basically there to warn Frank that grandma Evelyn is up to no good and that he should have been more careful about exposing Mary's genius to the outside world.
Evans and Grace deliver solid, heartwarming performances. He's smart, cute and charming. And she reminds me of a young Drew Barrymore or Dakota Fanning. We'll get to see more of Grace next year as young Tonya Harding in the I, Tonya figure skating biopic. (That should be fun.)
Gifted drags a bit in the middle and the plot certainly has some holes, especially when it comes to the courtroom scenes and young Mary's input in her own upbringing. But overall, it's a pleasant watch that will leave you a bit misty-eyed as it shamelessly manipulates your emotions (some in the theater were outright sobbing). Gifted is much easier to watch than the uncle-as-sudden-guardian drama, Manchester By the Sea with Academy-Award winner Casey Affleck. Manchester is far better, but if you're in the mood for something less gut-wrenching, Gifted offers up a simple, sappy alternative.
Hear more about Gifted in this archived edition of the Cinema Clash that also features reviews of SMURFS: THE LOST VILLAGE, a kid-friendly, adult-not-so-much animated feature; GOING IN STYLE, a heist comedy for the older crowd; ALIVE AND KICKING, a documentary about the history and appeal of swing dancing; QUEEN OF THE DESERT, a Werner Herzog film with Nicole Kidman as a headstrong debutante/explorer/cartographer at the dawn of the 20th Century; and FRANTZ, a foreign film that wins both Charlie and Hannah's votes as best of the bunch. Will wonders never cease? Let the Clash begin!
No Comments Yet
You can be the first to comment!
Leave a comment