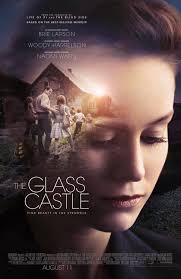 I'm generally a fan of (or maybe a sucker for) movies based on real people and events, so that could be why I had a pretty good week at the movies with two mainstream dramas and two foreign films. First up: The Glass Castle, based on Jeannette Walls's best-selling memoir about her unconventional upbringing and coming to terms with the complexities of her relationship with her dysfunctional parents and remarkably normal siblings. The film features a stellar cast that includes Brie Larson (Room), Chandler Head and Ella Anderson as Jeannette (through the years), Woody Harrelson as her fundamentally flawed but occasionally well-meaning father, and Naomi Watts as her eccentric artist mother. The parents are the types to define homelessness and squatting as a 'lifestyle choice'. I haven't read the book, but those around me who did seemed satisfied with the way the film played out. Others, however, (while still acknowledging the strong performances) criticized the movie for glamorizing or romanticizing what they saw as dangerous, irresponsible and often cruel parenting. I thought it walked the line fairly well, in much the same way as last year's well-received indie Captain Fantastic.

As far as I'm concerned, if Jeannette Walls is okay with the big-screen adaptation of her life, then I am too. This is her truth. Ultimately, The Glass Castle is a PG-13 chickflicky drama designed to tug at the heartstrings with a mix of horror and humor. Sappy souls will get a bit misty-eyed near the end and appreciate the way the end credits offer a glimpse of the real people portrayed in the film. Is it for everyone? No. A must-see for anyone? No. But it is a solid option for fans of This Is Us eager to fill some time at the Cineplex before the TV series returns in the fall.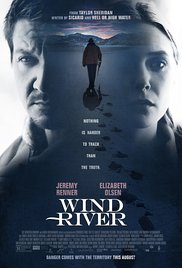 Wind River is an engaging crime thriller written and directed by Taylor Sheridan who wrote Hell or High Water, one of my top picks from 2016. The R-rated film – inspired by true events and grim statistics- follows the investigation of a young woman's rape and murder on the bleak and remote Wind River Indian Reservation in Wyoming. Elizabeth Olsen plays a rookie FBI agent who teams up with a local tracker from the U.S. Fish and Wildlife Service (Jeremy Renner, Avengers, The Hurt Locker) to get to the truth. It's a mission fraught with emotional and jurisdictional challenges and unexpected peril. Wind River is about as far from the feel-good movie of the summer as you can get (except for the impactful Detroit). But it is gripping-good.
The Fencer is one of those small foreign films that caught me totally off-guard – or should I say, en garde!? It's an arty flick with definite mainstream appeal, especially if you like a good David vs. Goliath sports story with heart and a bit of history thrown in. The Fencer is a Finnish film written by first-time screenwriter Anna Heinämaa. It's based on the story of a real guy named Endel Nelis who fled from Leningrad to a remote village in (what was then Soviet-occupied) Estonia in the early 1950s to evade the Secret Police. He gets a job as a gym teacher at a school where many of the kids have lost their fathers (to the war and its aftermath) and are starving for any sort of activity to take their minds off their bleak existence. Endel reluctantly steps in – and then steps up – as a role model and father-figure. He starts teaching the kids his passion sport, fencing, over the objections of a suspicious school principal who starts digging into Endel's past. Some of the kids get good enough to compete in a big tournament in Leningrad and Endel is faced with a tough choice: risk his freedom, or disappoint the kids. You get the picture. The Fencer is one of those feel-good movies about triumph of spirit over oppression. It's in Estonian and Russian with English subtitles, but don't let that stop you from seeking it out – if not in theaters, then as a rental or streaming option.
A Taxi Driver tested my limits on running-time (especially for a foreign film) at 2 hours and 17 minutes but it had a lot to pack in- action, drama, tension, history, emotion. It's based on the true story (yes, another one!) of a taxi driver from Seoul who helped German reporter Jürgen Hinzpeter get in – and out – of Gwangju, South Korea during a brutal military crackdown that took place in May of 1980. The reporter's footage was instrumental in showing the outside world what was happening in Gwangju. The film features engaging performances from a cast of unknowns (at least to me!). The taxi driver's narrative is definitely the most layered and complex and engaging. He starts out as a down-on-his luck widower and single father skeptical about the uprising in Gwangju, and by the end, he is somewhat of a conflicted hero. The Taxi Driver is in Korean and English with English subtitles. It's a cab worth hailing – if you can find it.
For lively discussion and debate on all these films and more, tune in to the Cinema Clash podcast with Charlie and Hannah, also available on iTunes!