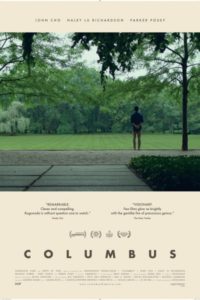 This one is indie all the way. Set in Columbus, Indiana, it's the story of Casey (Haley Lu Richardson), a local girl in love with the architecture of her small town but at the same time dying to get out. Enter Jin (John Cho) who's come all the way from South Korea because his famous father fell ill here while on a speaking tour. She's a fan of his architectural scholar dad. He's estranged from him. As Jin gets to know Casey, he sees that she's smart and ambitious, but her recovering addict mom is holding her back. And while these two broken adults share their bad parenting stories, Casey gives Jin a tour of her favorite architectural spots around Columbus. Not a lot happens, but it is interesting to watch.
Small town Columbus is a surprising place to find such architectural greats as Eero Saarinen, Robert Venturi, Richard Meier, and I.M. Pei, that is unless you're an architecture scholar. And though she's only graduated from high school, Casey knows them all. After meeting Jin when he bums a cig, she shows up at his hotel and offers him a private tour of the town. It isn't a come-on, but a way for her to connect with someone who's new and different. Fortunately, he's a translator, so his English is perfect. Each building or bridge has a story and Casey wants to tell them all to him. He wants to know how she feels about them more than the facts. Their relationship evolves over the course of a few days, though isn't exactly romantic. It's more that they're both in need of diversion from what's staring them in the face.
The film stands out for its visual elegance. The way the buildings and landscapes are shot echoes the architectural style of the mid-century buildings. It's wide and spare and gorgeous. Indie darling Parker Posey shows up as the father's manager in a small but key role. And both Cho and Richardson are very capable as the leads. Columbus is definitely for the indie crowd. It's kind of slow, you feel you've seen these characters before, and as I said, not a lot happens, but it's a curiously engaging ride. Indie and architecture fans should definitely put it on their lists.
1 Comments
Leave a comment