Featuring quickie reviews of: Breathe; Darkest Hour; Call Me By Your Name; Film Stars Don't Die in Liverpool; Mudbound; Hostiles; Last Flag Flying; Lady Bird; Three Billboards Outside Ebbing, Missouri; I, Tonya; Faces, Places; The Square; Novitiate
For the second year in a row, I ventured out to bucolic Middleburg, Virginia (about an hour's drive from DC) for the Middleburg Film Festival, a mid-October opportunity for a little bit of schmoozing and partying, and a whole lot of movie-watching. I'm a bit late with my recap, but hey, it took a while to wrap my head around the whole experience: Ten movies, across three venues, in 72 hours. A Mainstream Chick record!

MFF – now in its fifth year – is quickly becoming a go-to fest for awards contenders. This year's slate definitely included several films that will qualify, though none of the movies wowed me – or moved me to tears – the way last year's line-up did (with Moonlight, La La Land, Lion, Manchester by the Sea, to name just a few). Festival attendees are asked to rate the films from 'Fair' to 'Wow'. For me, nine of them ranked 'Good' or 'Great' (or somewhere in between). One was a dud. So, without further ado, here's how it all played out, in the order in which they were seen:
Breathe – The MFF presented Breathe as a special screening before the official opening of the fest and it was, for me, the chick-flickiest of the bunch. It's a period drama, love story and biopic that plays like a cross between Me Before You and The Theory of Everything. It stars mister versatility Andrew Garfield as Robin Cavendish, a Brit who was diagnosed with polio in 1958 at the age of 28. Though initially given just months to live, Cavendish defies the odds, and with the help of friends and family (including wife Diana, played by Claire Foy), he survives for several decades and becomes an advocate for others who, like him, were paralyzed and living on a respirator. It's a heartwarming film about what defines quality of life – and how we choose to die.
Darkest Hour – This was the big opening night film (following a lovely outdoor reception that included food, wine and spirits from local sponsors). Darkest Hour focuses on Winston Churchill's controversial appointment as Britain's Prime Minister during the early days of World War II as the government wrestled with the idea of negotiating with Hitler, or fighting on. Gary Oldman is great as Churchill, but for the most part, the film is reminiscent of countless other WWII political dramas (including the very recent Churchill). Actor Ben Mendelsohn (who does a fine job as King George VI) was in attendance for the post-screening Q&A, which was cool. I just wasn't blown away. Then again, I wasn't blown away by Dunkirk which takes place during the same time frame, though I think I may have been able to appreciate Dunkirk more if I had seen Darkest Hour first, to better set the context.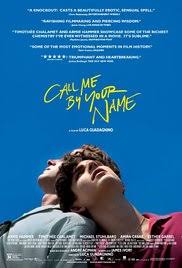 Call Me By Your Name – This film is a slow-burn arthouse movie about a 17-year-old (Timothée Chalamet) who falls in love with a handsome and charming graduate student (Armie Hammer) who comes to stay at his family's summer house in Italy in 1983. It's a romantic drama that captures a budding homosexual relationship in a very authentic and stylistic way. It's also a coming-of-age story. Warning: There is a peach scene that could rival the pineapple scene in Girls Trip (if you've seen that one, you know what I'm talking about). Overall, Call Me By Your Name – adapted by 89-year-old screenwriter James Ivory from a novel by Andre Aciman – is about summer love, hope and heartbreak. It's a bit too long at 132 minutes (causing it to drag in parts) but apparently the book has even more material and revisits the characters later in life. So it's probably a good thing someone yelled 'cut'. The performances are outstanding. Timothée Chalamet appeared in three films at Middleburg, but this is the one that will put him on the map. As for Hammer – he's already on the map. For good reason.
Film Stars Don't Die in Liverpool – Part drama. Part romance. Part biopic. Film Stars Don't Die in Liverpool follows the relationship between Oscar-winning actress Gloria Grahame (Annette Bening) and a young, fledgling actor named Pete Turner (Jamie Bell). The film is based on Turner's memoir, and it chronicles the impact that a breast cancer diagnosis had on their love affair in the late 1970s. Grahame died in 1981, and truth be told, I barely recognized the name. So it remains to be seen if this film can gain traction based primarily on Bening's star-power. I heard through the grapevine ('cause part of the fun at Middleburg is dishing with others about the movies we've just seen) that the film minimizes the salaciousness and ick factor relating to Grahame's previous relationships (including an alleged affair with a teenage step-son she later married). But perhaps that's another movie for another time – or not. Bottom line: Film Stars Don't Die in Liverpool is an average, engaging chick flick with above-average performances from Bening and Bell.
Mudbound – This film, based on a novel, represented the first real 'epic' at MFF and got about as close to a 'wow' as I was inclined to give on Day Two. It's a powerful film with a whipass smart female director, Dee Rees, whose post-screening Q&A was a highlight of the festival. Mudbound is a period drama about two families – one black, one white – who live on farmland in rural Mississippi, and what happens when a young man from each family returns to the farm after serving in World War II. Mudbound has a strong ensemble cast that includes Carey Mulligan, Garrett Hedlund, Jason Clarke, Jonathan Banks, Jason Mitchell and Mary J. Blige (!). There was A LOT going on in this movie but ultimately it all works, and I count it among my early frontrunners for Awards Season consideration. It comes out on Netflix the same time it hits theaters on November 17.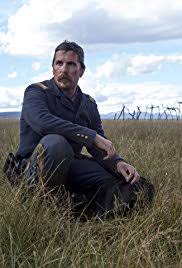 Hostiles – This western drama was a major disappointment. I generally like both Christian Bale and Rosamund Pike, but Hostiles was too brutal for my taste and worse- was sorely lacking in character development. Bale plays a legendary Army captain who reluctantly agrees to escort an Indian chief and his family back to their Montana reservation in 1892. Pike plays a widow he meets near the start of the trek across dangerous territory that's stained with the blood of both whites and Native Americans. There's a high body count and a contrived ending that left me cold. I gave it a 'Fair' – and that was being generous.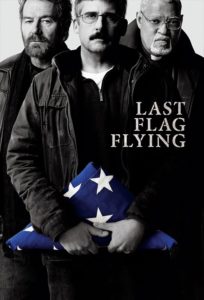 Last Flag Flying – This was the first film that truly surprised me at MFF with its message, humor and performances. Last Flag Flying manages to be witty, poignant, sad, sarcastic, cynical, relevant – and did I mention, funny? — all while telling a most heartbreaking story. Bryan Cranston, Steve Carell and Laurence Fishburne play three guys who served together in Vietnam but haven't seen each other in 30 years. They reunite for a somber roadtrip to bury one of their sons – a young Marine killed in the Iraq War. It's supposed to be a quick trip but they encounter some unexpected obstacles along the way. The film pays homage to the enduring bond among those who serve, and demonstrates that it's possible to be both patriotic and skeptical of the U.S. government when it comes to war. That's really all you need to know. Cranston, Carell and Fishburne are fantastic – and so is this film.
Music Got Me Here – After Last Flag Flying, I stuck around the same venue – the Hill School — because the venue itself was relevant to the next film on the schedule: a documentary close to the heart of the Middleburg community. Music Got Me Here follows the struggles and triumphs of Middleburg resident Forrest Allen who suffered a traumatic brain injury in a freak snowboarding accident in 2011, at the age of 18. (He wasn't wearing a helmet). Forrest wasn't able to speak or walk for two years. But with the help of a former Hill School teacher-turned music therapist Tom Sweitzer, Forrest found his voice again. I got misty, as did many in the audience. Understandable, since most of them seemed to know Forrest, his family, and Sweitzer (all of whom were in attendance for a heartwarming Q&A). I, however, am just a sap. Music Got Me Here was shot over five years, directed by the MFF program director Susan Koch and edited by her daughter. So sure, there may have been some nepotism involved in snagging a spot on the festival schedule, but it proved to be well-deserved. It was the 'feel-good doc' of the weekend.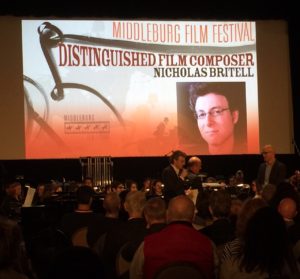 [Insert musical interlude here… I took a break to watch the Shenandoah Conservatory Symphony Orchestra pay tribute to Oscar-nominated composer and pianist Nicholas Britell with selects from films including Battle of the Sexes, The Big Short, Moonlight and 12 Years a Slave. Britell discussed his creative process. It was quite interesting. I'll be paying a lot more attention from now on to the film score category.]
Lady Bird – Greta Gerwig is officially a triple threat: actress, writer and director. Lady Bird marks her debut as the solo writer and director of a feature film, and it's a good one. Despite the name, it doesn't have anything to do with 'Lady Bird' Johnson. (just getting that out of the way now, especially since there's a new LBJ movie out). Lady Bird is about the relationship between 17-year-old Christine "Lady Bird" McPherson (Soirsa Ronan, Brooklyn) and her mother (Laurie Metcalfe), as Christine completes her senior year in high school and looks forward to getting out of her hometown of Sacramento (which Christine/Lady Bird refers to as the "'Midwest' of California"). Lady Bird is a coming-of-age movie on par with last year's underappreciated The Edge of Seventeen. The supporting cast is excellent and the film has some very funny moments. But the most poignant ones – and the stand-out performance – comes from Metcalfe.
[Side note: I had the pleasure of participating in a brief roundtable interview with Greta Gerwig. She was charming. I asked whether she had any concern that folks might think her movie was a biopic about Lady Bird Johnson. Her answer, in a nutshell, was "no" (she figures people know before they go what type of movie they are walking into); I also asked if she would ever consider revisiting the characters/story someday. She said she doesn't think so, because she likes the finite nature of cinema and likes to think of each one as its own little universe. I noted that this is a universe she created, so she can reserve the right to change her mind. She agreed, adding, "The next time they'll all be vampires." ☺]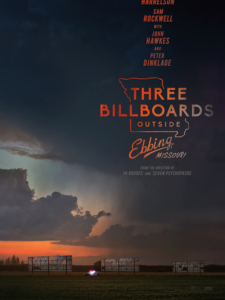 Three Billboards Outside Ebbing, Missouri – Word of mouth prompted a large turnout for a Sunday morning screening of Three Billboards on the last day of the Middleburg Film Festival. And word of mouth proved right. What a wild ride this movie is. It's a darkly comic drama about an angry, grieving mother (Frances McDormand) who buys space for a year on three giant billboards leading into town, to shame the local police department into finding out who raped and killed her daughter. The film features a strong ensemble cast with standout performances from Woody Harrelson as the town's revered police chief, and Sam Rockwell as his immature and violence-prone deputy. Three Billboards definitely wins for taking you through the gamut of emotions – heartbreak, humor, sympathy, anger, horror, brutality, shock. It's a revenge movie like none other and deserves to be in the mix this Awards season.
Bonus recaps on four additional films that also played at Middleburg (though I saw them just before or after the fest):
I, Tonya – The biggest surprise about I, Tonya is that it's both really bizarre and quite good, especially if you followed the wild saga involving disgraced figure skater Tonya Harding and her alleged involvement in – or knowledge of – the 1994 attack on rival skater Nancy Kerrigan just before the Winter Olympics. (Ah yes, I remember it well!). I, Tonya plays like a mockumentary, featuring interviews with Harding (Margot Robbie, nailing the hair, clothes and mannerisms), her ex-husband Jeff Gillooly (Sebastian Stan), her abusive alcoholic mother (Alllison Janney, vying for a supporting actress nomination), a producer from Hard Copy (Bobby Cannavale), and others who factored into Tonya's life both on and off the ice. I, Tonya aint no Ice Castles or Cutting Edge, that's for sure. It's a wacky biopic that manages to humanize Tonya Harding in a way that her celebrity boxing matches never could. I give it a 5.7 for both artistic and technical merit. (If you know your skating, you know that's a decent score).

Faces Places (French title: Visages Villages) is a quirky and poignant documentary and road-trip movie about an artistic collaboration between 89-year-old New Wave film director Agnes Varda and the 34-year-old muralist/photographer known simply as JR. The film plays like an extended version of an "Across America" segment that you'd catch on CBS Sunday Morning. Good stuff.

The Square – This satirical drama out of Sweden won the Palm d'Or at Cannes so I felt some pressure to try and like it. Sorry, Square. I just couldn't bring myself to care. But if you have 145 minutes to spare, and an appreciation – or disdain – for pompous, high-brow installation art, then feel free to check it out.

Novitiate – This film wasn't really my cup of tea either. It's about a girl from a broken home who falls in love with the big JC and decides to become a nun. At 17, she takes her initial vows and starts her training, just as the Roman Catholic Church is undergoing some radical changes with the release of Vatican II in the 1960s. The ending leaves room for interpretation and after-thought. It's certainly an interesting film, but I'd much rather watch The Sound of Music or Sister Act.
Note: Arty Chick also attended the Middleburg Film Festival! For her perspective, check out Arty Chick's Middleburg Festival Download.