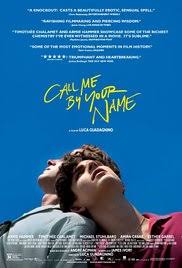 What a beautiful film! It's a coming-of-age story set in 1983. Elio (Timothée Chalamet) is 17-years-old, living in the bucolic Italian countryside with his parents in their 17th century villa. His father is an archeology professor who invites an American student to come work with him each summer. This summer's student is the handsome and charming Oliver (Armie Hammer). Elio is initially put off by Oliver's ease and charm, and by the fact that he took his room for the summer, but slowly the two of them become friends, and then much more. It is set in the years before men could be open about such things, even to one another.
Elio has a hard time cozying up Oliver, who jumps into everything with gusto, and acts very much like an American in Italy. But they slowly build a relationship, riding bikes into town, swimming together, and you don't even know when it happens, that it moves beyond simple friendship. It seems so natural. And that's really the beauty of the film. It's very realistic and unforced without big swells of music or overly dramatic moments to push the story. The performances are stellar, too. I can see both Chalamet and Hammer with nominations. Their chemistry feels so achingly real.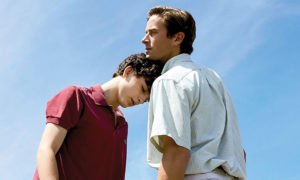 Beneath their passion though, you know that the end of the summer will come and their lives will go on. But as coming-of-age tales go, it's one of the best out there. And there's a scene near the end when Elio talks with his dad about how he feels. It's the way I imagine everyone who has ever come out to their parents dreams of it going. His father is warm and wise and utterly accepting of his son. And that's what this film is all about. Acceptance and love. I wouldn't put this in a gay themed box either. It's about love and risk, and it's beautiful.
[Mainstream Chick's Take – This film is a slow-burn arthouse movie about a 17-year-old (Timothée Chalamet) who falls in love with a handsome and charming graduate student (Armie Hammer) who comes to stay at his family's summer house in Italy in 1983. It's a romantic drama that captures a budding homosexual relationship in a very authentic and stylistic way. It's also a coming-of-age story. Warning: There is a peach scene that could rival the pineapple scene in Girls Trip (if you've seen that one, you know what I'm talking about). Overall, Call Me By Your Name – adapted by 89-year-old screenwriter James Ivory from a novel by Andre Aciman – is about summer love, hope and heartbreak. It's a bit too long at 132 minutes (causing it to drag in parts) but apparently the book has even more material and revisits the characters later in life. So it's probably a good thing someone yelled 'cut'. The performances are outstanding. Timothée Chalamet appeared in three films at the Middleburg Film Festival, but this is the one that will put him on the map. As for Hammer – he's already on the map. For good reason. -hb]