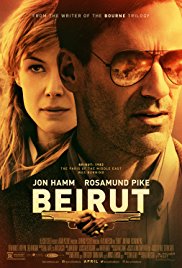 Beirut is a fairly standard spy thriller and political drama that takes place primarily in 1982 but still feels relevant and timely given the perpetual, seemingly futile efforts to secure peace in the Middle East. The film stars Jon Hamm (Baby Driver, "Mad Men") as Mason Stiles, a US diplomat who flees Lebanon after a tragic incident at his Beirut home in 1972. Fast-forward ten years, and Stiles is called back to Beirut to help negotiate the release of a friend and CIA operative whose captors insist on talking only with Stiles, for reasons that relate back to his time in the war-torn country.
Rosamund Pike (Gone Girl, Hostiles) co-stars as Stiles' handler. She's tasked with keeping tabs on Stiles, who proves to be both a savvy negotiator – and a drunk. She's also the one most likely to have his back. The plot takes a few twists and turns as it questions who can really be trusted when every stakeholder – from the U.S. to Israel to the PLO and beyond – is pushing their own interests and agendas. The script (by Tony Gilroy, The Bourne Trilogy, Michael Clayton) is solid, Hamm delivers an excellent performance, and the atmosphere feels tense and authentic. But overall, the indie lacks the action, thrills and intrigue of a Bourne-style flick, so it doesn't really need to be seen on the big screen. It is, however, a decent pick for fans of Hamm and Pike to add to their Netflix (or other rental/streaming) queue.
No Comments Yet
You can be the first to comment!
Leave a comment