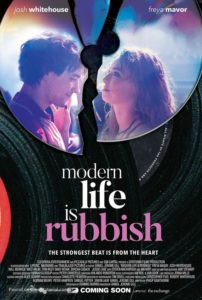 The movie has little to do with modern life or rubbish (though I'd think twice before putting the latter in the title of any movie.) It's the name of an album by a Britpop band called Blur, a favorite of the couple at the center of this music-centric romantic dramedy, Liam (Josh Whitehouse, Poldark) and Natalie (Freya Mavor, Cezanne et Moi) who meet cute in a London record store, brought together by the albums of Blur. He's a struggling musician. She's an artist, too, but more pragmatic about her life. And before you know it, they've moved in together. But we start their story as they are dividing their belongings after a break-up and flashing back to their years together. It's a story we've all heard before, but it has a nice soundtrack, if you're into that sort of music.

Liam refuses to get a job. He's dedicating himself to his music and he's sure that the band is going to take off soon. And at first his "integrity" seems like a good thing to Natalie. He sees himself as somehow more pure than the rest of the world, eschewing the cell phone and the iPod, announcing to Natalie, "I refuse to join the ranks of the Sudoku-playing, latte-sipping, iPhone-wearing clones who adorn this city oblivious to the fact that their individuality has been co-opted by a handful of global multinationals." But eventually as Natalie grows and moves into the corporate world, he seems like he's stuck in a rut and unwilling to get out. So they split. Liam's band has hired a guru to get them into the big time, and he keeps telling Liam, the songwriter/frontman to write and sing from the heart. And he just can't do it until, you guessed it, Natalie breaks his heart.
Modern Life Is Rubbish is a little piece of fluff filled with struggling rocker cliches. But the two actors are attractive and the music nicely selected. It is entertaining in that "I don't want to watch anything taxing" sort of way. I wouldn't run out to see it. Wait for it on Netflix or perhaps it could be a rocker date flick.
[Mainstream Chick's take: I think I actually liked this little indie more than Arty Chick did. It reminded me a bit of the 2007 musical drama Once and 2016's Sing Street. Both of those are better. But if you've already seen them, and liked them, you may want to give Modern Life is Rubbish a shot – especially if still own a bunch of LPs, have heard of Blur, or typically root for small quirky bands (shout-out to Mental Vacancy!) -hb]