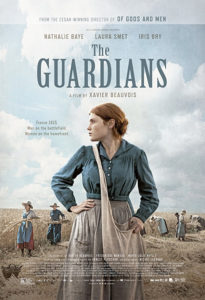 Most World War One movies are set in the battles and the trenches, but The Guardians takes place at home on a farm in rural of France. There the women keep the home fires burning and the crops in the fields harvested as they await news of their husbands and sons. At the center of the film is the matriarch of the family, Hortense Sandrail, played by one of France's great actresses, Natalie Baye. She has two sons and a son-in-law in the fight, and with only her daughter Solange (Laura Smet) not enough help to keep the farm running. So she hires young woman, Francine (Iris Bry), who fits right in grows to be almost one of the family. But just under the surface of the bucolic farming tale is the horror of the war and the fear that their little isolated corner of the world will never be the same and their men will not all be coming home.
The farming life is beautifully rendered. The land is tilled, the seeds planted, and crops harvested and the seasons change, and the names of the dead men are read aloud in church each Sunday. The men come home on leave from time to time, but they've been changed by the war and of course everyone understands that, but the women, too, are changed by the experience. They're given the reins of the farm. They're the strong ones. And they take the opportunity to modernize. And in the midst of it all, young Francine meets one of the sons when he is home for leave and they develop a relationship through the letters she sends to him. She was raised in an orphanage and has never been part of a family and so she is thrilled by her future prospects, but…
The Guardians is slow going. Not too slow for me, but it's definitely an art house flick. I loved the pace and the shooting is gorgeous. And the actors, especially newcomer Iris Bry, are all top notch. Though it is set during the Great War, it's really a women's empowerment film, while also a love story and a family drama. I'd recommend it to French film lovers, art film lovers, anyone who remembers and loved Terrence Malick's Days of Heaven.