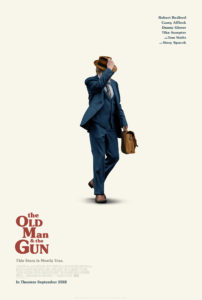 It's Robert Redford, visibly older but still charming and fun to watch. And Sissy Spacek, visibly older (to a much lesser degree) but still charming and fun to watch. So, if you can forgive the lack of drama and stakes in this largely based-on-a-true-story heist film, then by all means, sit back, relax and enjoy what Redford, 82, says is his final on-screen performance, though we firmly support his right to change his mind.

Redford plays Forrest Tucker, a charismatic, non-violent guy who simply loved to rob banks and didn't care much about getting caught – especially since he had a knack for escaping custody. Over and over again. For decades. Spacek plays Tucker's love interest in his later years. And Casey Affleck plays John Hunt, the Texas detective who hunted Tucker and his accomplices (played by Danny Glover and Tom Waits) and dubbed them, appropriately enough, the "Over the Hill" gang. Glover and Waits don't have much to do, but they make the most of their limited supporting roles; Redford and Spacek share an easy chemistry; and Affleck more than holds his own. Overall, The Old Man & The Gun is a very average movie, with above-average acting.
No Comments Yet
You can be the first to comment!
Leave a comment