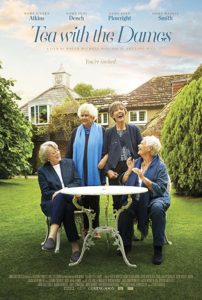 The Dames in question are Maggie Smith, Judi Dench, Joan Plowright and Eileen Atkins, four of England best actresses and life-long friends who meet up regularly at Plowright's country home. This time director Roger Mitchell (Notting Hill) has brought a film crew and prods the ladies to tell their tales of the theater and the cinema. Chock a block with archival footage that takes us through their illustrious careers and lives, the documentary takes each Dame from childhood to old age with gossip and silly tales from beginning to end.
Most movie-goers will be quite familiar Maggie Smith and Judi Dench. Joan Plowright was Laurence Olivier's third (and final) wife and had quite the distinguished career on stage and screen. Aileen Atkins was the name I didn't recognize, though I certainly knew her face from countless BBC shows and Doc Martin. All four of them started out in the theater around the same time and have stayed friends for nearly half a century!
Sadly, Tea With the Dames is one of those concept films that doesn't quite work. It was shot in just one day, and it feels kind of forced a lot of the time, with the director off camera asking questions meant to lead the ladies into what he wants to hear. I wonder if it would have been more fun had it been true vérité allowing the ladies being more themselves, less constrained. Nonetheless, Maggie Smith comes off being the funny one. They're all a bit jealous that Judi Dench is still getting roles. And you can tell they have a great time at these tea parties in each other's company. You don't have to run to the cinema for it though. I'd say wait for it when it comes to a streaming service. And to hell with tea. Bring a bottle of bubbly and a few good old gal pals!
[Mainstream Chick's take: I agree with Arty on this one. As great as it is to see all the archival footage and photos, and to see these women together shootin' the breeze, they don't seem all that keen on having a crew around, manipulating their tea-time. It has a certain charming appeal, especially for the BBC/Masterpiece Theater/Downton Abbey crowd, but there's no need to see it on the big screen. -hb]