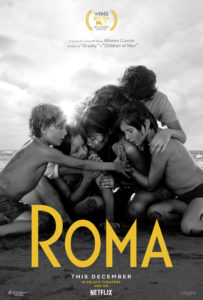 Director Alfonso Cuarón (Children of Men, Gravity) recreated the Mexico City neighborhood of his childhood to tell the story of Cleo, an indigenous woman who worked for his family and was an integral and loving part of his young life in the 1970s. Shot in gorgeous black and white, the film has all the details of a child's memory, while foregrounding Cleo's role and her struggles within the story of a middle class family going through some difficult changes. Roma is populated mostly by non-actors, and Yalitza Aparicio's performance as Cleo is riveting. You'll fall in love with her by the end. And I think that's the point.
The film, like life, swings between the quotidian and the extraordinary. People are loving and they are awful to one another. Life is good and life is violent. And in between the kids play and Cleo cleans up after them. There are moments in the film that feel very Fellini-esque, with Cleo playing a very Giulietta Masina-like naif. But in other scenes, she is the strongest women on earth. It's her film and Cuarón's love for her pours through the lens. It is in fact a gorgeous love letter to his real nanny whose name is Libo.
Roma is a very arty film, and I absolutely loved it. I've seen it twice now. And I know it won't be a mainstream hit. It is already getting some awards season love though, showing up on a lot of "best of 2018" lists, and it won the big prize at the Venice Film Festival. It's coming to Netflix mid-December but I don't think it will pick up a lot of viewers there since one of the big draws, at least for me, was the breathtaking beauty of it, which will be diminished on a small screen. If it sounds like your kind of film, get to a theater if you can, because that's the way you need to see it.
I just got some awards season swag with a letter from Cuarón himself about the movie. In it he described his reasons for making Roma: In looking to my past, I wasn't interested in a making a film wrapped in the warm blanket of nostalgia. I wanted to make a film about the past seen from the prism of my understanding of the present, and through it, examine my family, my city, my country and our world at large… and above all things, the random nature of existence. It's here, in this experience of shared loneliness that is our meaningless existence, where the only solace we can find resides in our bonds of affection.
Yalitza Aparicio won the Middleburg Film Festival's 2018 "Rising Star" Award, and I do hope she continues to act. She was in attendance and in the Q&A admitted that when she went to the casting call, she was afraid it might be human trafficking since that happens to her people. She also said that she had to be talked into it. Thanks goodness she listened to her family and went with it.
Mainstream Chick had this to say of the film: This black and white film from celebrated director Alfonso Cuarón was probably the most divisive film I saw at Middleburg, and it came on opening night. Reactions ranged from total awe to quiet disappointment, and even included a handful of walkouts. The film follows a young domestic worker named Cleo (first-time actress and recipient of MFF's Rising Star Award, Yalitza Apararicio) who works for a family in Mexico City's middle-class Roma neighborhood. Cuarón painstakingly recreated scenes from his own youth to showcase domestic strife and social hierarchy amid Mexico's political turmoil of the 1970s. The film is beautifully shot, but is not everyone's cup of tea. It's Mexico's submission for a 'Best Foreign Language Film' Oscar and is getting buzz for bigger awards consideration as well. But it's more of a critical darling than a crowd pleaser. I was somewhat on the fence. Let's just say Arty Chick enjoyed it far more than I did.
No Comments Yet
You can be the first to comment!
Leave a comment