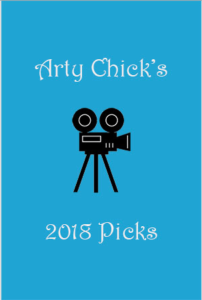 This was a hard year to choose my favorites. There were great movies in a lot of categories that deserved attention. It was a GREAT year for foreign films and documentaries, as well as some big and small features. I skew to the arty side, so I was not a big fan of most of the blockbusters, but there are a few. Here's my oh-so-personal, definitely-not-an-Oscar-prediction list.
Roma I loved this movie when I saw it at the Middleburg Film Festival and loved it even more when I saw it again here in Asheville. As a photographer I adore the imagery. But beyond the look of it, I was taken with the loving intimacy of the story and Yalitza Aparicio's stunning debut. The fact that the central character is an indigenous woman and that Cuaron elicited such a beautiful performance from his group of mainly non-actors cemented this one in my heart.
Tied for second place are The Favourite and Green Book. I saw them both at Middleburg. The Favourite was chock a block full of incredible performances with a wickedly funny script and I happen to love a good royal comedy. They don't come around often. Green Book was also very funny with great performances, but balanced it with a heartwarming buddy story. That it is a true story just made it even better. I don't understand the hate it's gotten, but I hope more people give it a chance. I loved it, as did the audience at Middleburg.
And past third place it is too hard to place my other faves in any order so here they are:
Black Panther I'm not usually a superhero movie fan. But I enjoyed this one a lot. I loved the world it inhabited. I loved the story and the actors. I particularly loved the strong women in the film and hope that little sister gets her own spin-off or at least a bigger part of the story in a sequel.
Blackkklansman At it's heart BlackkKlansmen is an indictment of America, a repudiation of the current administration, and a painful cry to finish the civil rights work that was started so long ago. It's a brilliant film, probably Lee's best since Do The Right Thing. The cast is terrific, the script biting, and the pacing perfect. It's a true story and one that resonates all the more loudly in our current political world with David Duke and his minions then as now proclaiming "America First." It's a deadly serious, yet at times hilarious story, and it's scary how much has not changed in the intervening years.
The Death of Stalin This film is about the death of the ruthless dictator in 1953, though that only takes up a few minutes at the beginning. What it's really about is the political wrangling that begins before he's even left this world, between Stalin's second-in-command, the idiot Georgy Malenkov (Jeffrey Tambor), the ambitious Party chief Nikita Khrushchev (Steve Buscemi), and the truly sick secret police chief Lavrenti Beria (Simon Russell Beale). It's adapted from a comic book telling of the story, and everything that happens has a darkly absurd quality. And even though it's based in reality, I'm sure the actual men were never as hilarious as they appear in this telling.
If Beale Street Could Talk Director Barry Jenkins's (Moonlight) adaptation of James Baldwin's novel is a racial justice story wrapped in a love story that is uplifting and heartbreaking at the same time. At the center are Tish (KiKi Layne) and Fonny (Stephan James – Race, Selma), young lovers just starting their lives together when their world is upended with a false rape allegation. And it's through a family's love that things don't entirely fall apart. It's beautifully shot with heartbreaking performances, and the story, though set decades ago, still resonates.
Isle of Dogs Story wise the film is a pretty straightforward odyssey, but the visuals are simply amazing. The stop-motion animation is a beautiful blend of Japanese and American styles, and the dogs are fabulous. And as voiced by a veritable A-list cast, it has just the right tone.
Capernaum The Lebanese film Capernaum is mostly populated with non-actors and there was apparently a lot of improvisation, but it's so well done that you feel that you are right there with them in their struggle to just get by in a very harsh world. The story of a little boy's heartbreaking life is a snapshot of the lives of the millions of people who are living on the edge: the refugees, the undocumented, the extreme poor. And telling the story through a cute and frequently foul-mouthed kid keeps you hoping for a good outcome to a story that you know can't end well.
First Reformed  is not a feel good flick. It's an intensely thought-provoking and a glorious return to form for one of our great filmmakers, Paul Schrader. I'll admit that faith-based films are not usually my cup of tea, but this one, rooted in a real world moral crisis, spoke to me. Ethan Hawke gives his best performance to date, and the stark visuals certainly add to the bleak world the film inhabits. But it's Schrader's script and direction that make First Reformed a must see film.
The Guilty I loved this film for its ability to create tension from beginning to end with just one man on camera throughout. It's the story of one night in the life of a recently demoted cop in an emergency call center. So much of it takes place in your head, imagining the people Asger (Jakob Cedergren) is talking to on the phone in the middle of a kidnapping. It's an unbelievably smart script, perfectly directed, with one amazing performance. (See it now, since there's already an American version in the works starring Jake Gyllenhaal)
Shoplifters This Japanese film is all about what a family means. A group of unrelated people live together, take care of each other, love each other. And when a little girl is found abandoned, they take her into the fold. They're not saints though. They make a living by shoplifting and other petty crimes. But there are a lot of outside forces working against them all living happily ever after, and ultimately their sweet little world cannot hold. But while it does, it's a heartwarming and human story. The last scene may be one of the saddest I've seen lately though.
Cold War I thoroughly enjoyed this Polish love story. Set in Soviet-era Poland, Zula, a young singer, enters a state-run performing academy where she meets the love of her life, Wictor, the pianist-musical director of the program. The film follows their on and off relationship across decades as they escape the Iron Curtain and ultimately return. The music is particularly wonderful. There is one song that is sung first as an audition piece, then as a chorus in concert, then as a Polish jazz song, then translated into French. Joanna Kulig's performance is particularly good. She sings all the songs and her face lights up the screen. The film is told in gorgeous black and white, extremely photographic, much like the director's previous Oscar winning film Ida, which I loved.
Juliet, Naked I rarely love a rom-com but have to throw this one in, because it stayed with me. It stars Rose Byrne, Chris O'Dowd and Ethan Hawke as a British museum curator, her rock star obsessed boyfriend, and said rocker who's faded away into obscurity in America, respectively. When Annie (Byrne) shares her opinion on the rocker's new music on her boyfriend's blog, she unexpectedly receives a reply from the elusive star himself, beginning a cross the Atlantic online romance that eventually grows. It's funny and warm and feels more real than most rom-coms, and I think it's one that will stand up to repete viewing well. Ethan Hawke has had a great year.
Leave No Trace This one is a sad and beautiful film about home and family from writer/director Debra Granik who introduced us all to Jennifer Lawrence in the amazing Winter's Bone. In it, 13-year-old Tom (newcomer Thomasin McKenzie) and her PTSD suffering dad Will (Ben Foster, Hell or High Water) have chosen to live out in the woods in an Oregon park, taking care of themselves, and living a fairly isolated but full life together. But when they're discovered by rangers and social services gets involved, the question of what is home and what is normal is pushed to the fore.
Custody is an amazing French film about a custody agreement that puts a mother and her son in grave danger. The performances in this movie are amazing all around. Léa Drucker's Miriam feels every bit the abused woman, measuring her every word and gesture around the abusive ex lest he strike out again. As the father, Denis Ménochet's Antoine fully embodies the wounded brute who feels entirely victimized and within his rights to act out. And Thomas Gioria's performance as Julian, the son who truly fears his father, is heartbreakingly real. And the tension created by this story of the abuser coming back for more keeps you on the edge of your seat right up until the inevitable end.
Sorry to Bother You doesn't fit neatly into any of the usual genres. It's an audacious anti-capitalist sci-fi comedy set in an alternate Oakland. First time writer/director Boots Riley has delivered a provocative satire. There aren't many films that deal with resistance to the 1% and wage slavery with such subversive wit. The central character is named Cash who sells his soul for financial success, but finds that there is a huge price.
RBG This documentary about Ruth Bader Ginsburg gives her her due. At 85 and with 15 years on the highest bench in the land, it's time that her story be told. She may be tiny, but she is formidable! This wonderful documentary is based on the autobiography she read in her own confirmation hearing, the story of her professional ascent to the Supreme Court along side the truly touching love story of her life with fellow Harvard Law grad Marty Ginsburg.
Oh, Lucy! is a wonderfully creative character study that surprises and entertains. I had no idea what I was in for, but I'm glad I saw it. It is without doubt one of the quirkiest movies I've seen in a long time. It is by turns hilarious and sad and brutally honest. The central character is Setsuko, a 40-something Japanese woman, who's bored beyond belief with her life when her niece Mika talks her into taking a "free trial" English lesson where she meets American teacher John (Josh Hartnett, Penny Dreadful) who employs some "innovative" pedagogical techniques including decking his students out in wigs and doling out copious hugs. He christens Setsuke "Lucy" for the class, and though she was only going to check it out, she has so much fun that she decides to do the classes for real. But when John suddenly heads home to the States, Lucy decides to follow. What follows is Lucy's Southern Californian odyssey of self-discovery.
Honorable mentions: Border, Can You Ever Forgive Me?, Ben is Back, A Private War, Colette, Puzzle, Foxtrot, You Were Never Really Here, Beauty and the Dogs.
And the films that disappointed me this year? I'm not by any means saying bad, just that I expected better. Here are a few: Mary Queen of Scots, Destroyer, Vox Lux, Vice, Tea with the Dames, The Children Act,  Love Gilda.
And the Worst film of the year is Girl in the Spider's Web.
[Want to know what Mainstream Chick's Top Picks were? Click here.]