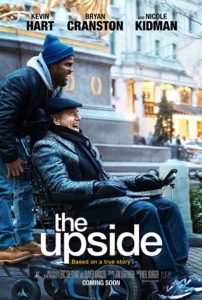 The Upside is a good movie. But it's an American remake of a better movie called The Intouchables. So I'm in a bit of a conundrum. My preference would be that everyone see the 2011 French indie, but I know that's a big ask. So if you're not inclined to see the superior version – or you've put it on the list of 'movies to rent someday' – then go ahead and check out The Upside, primarily to revel in the comedic and dramatic acting chops of Bryan Cranston. He plays a quadriplegic billionaire, Phillip Lacasse, who hires a recently-paroled ex-convict named Dell (Kevin Hart) to be his caretaker. Phillip figures Dell is the only candidate for the job who is irresponsible and reckless enough to let him die. 
Instead, the men form an unlikely bond, and each gets a new lease on life.
The plot is inspired by the true story of wealthy French aristocrat Philippe Pozzo di Borgo and his French-Algerian caregiver Abdel Sellou. Philippe wrote a memoir, "A Second Wind" about their unique and unexpected friendship; they were later featured in a documentary called À la vie, à la mort (In Life, Death); then dramatized in The Intouchables; and now, Americanized and a bit more fictionalized in The Upside. At its core, the story remains inspiring, charming and heartfelt. Which is why it still works.
On the downside, The Upside feels way more formulaic than the French version. And Kevin Hart can't touch Omar Sy's performance in The Intouchables. Sy shared a dynamic with his co-star François Cluzet (as Phillippe) that doesn't quite translate in The Upside. Both men played off each other with equal weight in the French version; Hart can't compete on the same dramatic and subtle comedic level as Cranston, not to mention his female co-stars Nicole Kidman (as Phillip's business executive) and Julianna Marguiles (as a potential love interest). Their talents are largely wasted here. They are almost too big for these smaller roles.
Arty Chick and I both loved The Intouchables and predicted way back in 2012 that an American version was a fait accompli. We even weighed in with our own thoughts on potential casting. And just as we suspected at the time, try as Hollywood might, there's simply no besting the original. All in all, though, a worthy effort.