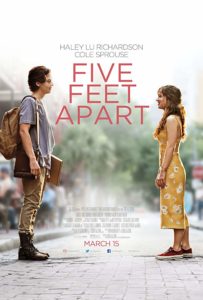 Haven't I seen this movie somewhere before? Yes, Five Feet Apart does indeed look a lot like the 2014 ailing-teen romantic drama tearjerker, The Fault in Our Stars. Only this time around, the affliction casting a shadow over budding romance is cystic fibrosis rather than cancer. The bottom line remains the same: chronic and terminal diseases suck. And while love can't always conquer all, the battle is still worth fighting. Cue the melodramatic score and pass the tissues, please.

The story takes place almost entirely in a hospital, where 17-year-old cystic fibrosis patient Stella Grant (Haley Lu Richardson) meets a rebelliously charming CF patient named Will Newman (Cole Sprouse) who carries a highly-infectious bacteria that could kill Stella if they don't maintain a safe distance of six feet. A simple kiss is out of the question.
Stella is normally one to follow the rules and her medical regimen to a tee, but as her attraction to Will grows stronger, she begins to re-evaluate her relationship with CF, the control it has over their lives, and the critical need for human touch. Six feet, five feet…
The distance thing presents one challenge, debilitating symptoms another. The film does not shy away from showing the thick mucus, the scars, the fevers, the G-tubes, multiple medications, and chronic breathing issues associated with CF. There is no cure, just treatments aimed at easing symptoms and increasing life expectancy. Many patients require a lung transplant. Stella is among them.
Five Feet Apart could easily be a somewhat lame disease-of-the-week melodrama. What sets this hospital meet-cute apart, however, is the cast, most notably Richardson (Split, The Edge of Seventeen, Support the Girls, Columbus). Richardson and Sprouse (TV's Riverdale, The Suite Life of Zack and Cody) do an admirable job selling their forbidden romance and shedding light on the progressive, genetic disease that impacts about 70,000 people worldwide. The supporting cast features a couple of standouts in Moises Arias (The Kings of Summer, Ben-Hur) as Stella's gay bestie/fellow CF patient Poe, and TV actress Kimberly Hebert Gregory as the watchful nurse Barb.
Five Feet Apart is not nearly as good as The Fault in Our Stars, and I personally did not like the ending. But it's fine for the YA crowd to whom it is being targeted.