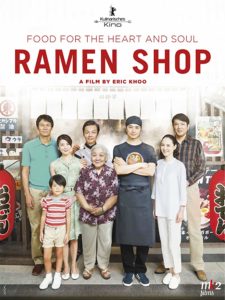 Following in the tradition of a spate of recent foodie flicks, Ramen Shop wraps a slight story in a culinary journey and has you drooling and wishing the film would be over quickly so you can get out to the nearest ramen shop yourself. This time around the story centers on a young Japanese chef Masato (Takumi Saitoh) whose father dies at the start of the film, sending him on a quest to find his culinary roots in Singapore. Dad met Mom there and there are a lot of unanswered questions about her and her family. She died when he was a boy, and his discovery of her diary among his father's possessions, sends him in search of his uncle and the story of his mother's estrangement from his grandmother. But all along the way there is a lot of cooking and eating mouth-watering food.
Masato's intial connection in Singapore is a food blogger who takes him on a culinary tour of the town as he searches out the recipe for bak kut teh, a pork rib soup. She also happens to read Mandarin and translates his Mom's diary for him. The film cuts back and forth in time as his mother and father court, as he plays in the kitchen while his mother cooks, as he is reminded of the good times before his father became bitter. And simultaneously, he's learning from his uncle and another ramen chef how to make the best broth out there. The story with the grandmother plays out just as you expect. It's pretty sentimentalized. As food movies go, it's a lite bite, but worth a taste, if you're into that sort of thing.
No Comments Yet
You can be the first to comment!
Leave a comment