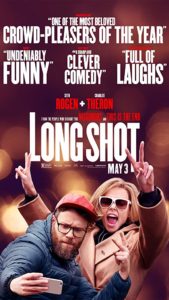 Seth Rogen comedies tend to be hit or miss for me. Long Shot straddles the line, eeking out on the side of okay, though somewhat disappointing given the tremendous buzz it received coming out of the uber-cool SXSW film festival. Maybe I'm just getting old. But I don't find the idea of a Secretary of State defusing a crisis while high on ecstasy to be all that funny. It is, however, quintessential Rogen. So if you're a fan of films like This Is The End, Superbad and Pineapple Express, then you know what you're in for with Long Shot. The biggest difference is that Long Shot aims for romantic political comedy in addition to raunchy comedy, with an assist from Oscar-winning dramatic actress Charlize Theron (Monster, Tully, Atomic Blonde).
Theron plays Charlotte Field, the beautiful, competent and poised Secretary of State who sets her sights on a Presidential run after her Trump-like boss (Bob Odenkirk) tells her he'd rather pursue a career in movies than run for re-election. Field seems perfectly qualified to be Commander-in-Chief, but – as is often the case in real-world politics and the battle of style over substance – Charlotte's poll numbers indicate she's not funny enough to win the popular vote. So her campaign advisors encourage her to hire a funny speechwriter to punch up her prose. Much to their chagrin, she picks Fred Flarsky (Rogen), a schlubby freelance journalist who's been crushing on Charlotte since she was his idealistic, eco-crusading babysitter a few decades back.
Theirs is an unlikely pairing. A long shot. Especially since Flarsky favors an 80s-style neon track suit for all occasions, likes to dabble in drugs, and generally has no filter. Not exactly qualities that scream potential "First Husband" material.
Long Shot starts off strong with a barrage of clever and timely themes. Flarsky's commitment to his craft is demonstrated by his comical attempts to infiltrate a neo-Nazi group, followed up by his decision to quit his job rather than work for a ruthless media mogul (Andy Serkis) bearing a strong resemblance to Rupert Murdoch. Field is passionate about the environment and America's roles and responsibilities on the world stage. At first, her character seems similar to that of Elizabeth McCord (Téa Leoni) on the TV drama Madame Secretary. My kind of movie! Or so I thought – until it veered into sophomoric and gross territory.
Long Shot is directed by Jonathan Levine who helmed one of my favorite films of 2011, 50/50 with Joseph Gordon-Levitt and Seth Rogen. That film managed to strike a perfect balance of comedy, drama and character chemistry. I didn't sense enough chemistry between Rogen and Theron to buy into their Long Shot romance; but others may disagree. The 20-somethings in the crowd certainly seemed onboard with it. Perhaps they were just desperate for anything resembling a smart romantic comedy. I certainly am, which is why I remain on the fence with this one. Long Shot hits the rim, but misses the net.