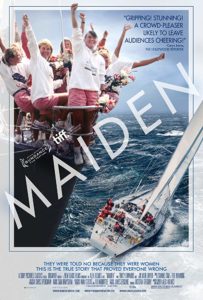 With the US Women's soccer team on a championship run, the timing couldn't be better for seeking out a documentary like Maiden. It's a prime example of #GirlPower – on the high seas! Maiden tells the story of the first ever all-female crew to enter the Whitbread Round the World yacht race in 1989. The film looks at how one woman's dream transformed into reality, despite an overwhelming number of obstacles – on water and on land – in a field dominated by men. In her 20s, Tracy Edwards followed her passion, dismissed the naysayers and recruited a group of strong young women to embark on a great adventure involving 32,000 miles of global racing on a second-hand yacht (renamed Maiden), a near-mutiny, weather woes, physical challenges and sheer exuberance.
Maiden's voyage is recounted through interviews with Edwards (the skipper) and her crew-mates – and a few skeptical journalists from the time – and is buoyed by a treasure trove of real, raw footage filmed onboard throughout the race. It's awesome, heart-pounding stuff set to a score befitting the drama.
Maiden is an inspiring film for all ages and genders because it's not just about female athletes (more than) holding their own in a sport long considered a guys-only domain. It's about summoning up the determination and drive to pursue whatever passion floats your boat.
[Note: The Maiden yacht is currently on a world tour as part of a fundraising effort to support girls' education.]
No Comments Yet
You can be the first to comment!
Leave a comment