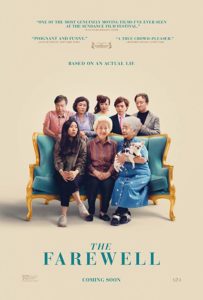 In this bittersweet dramedy based on a real story from the writer/director's own family, Billi (Awkwafina, Crazy Rich Asians) a struggling New York writer discovers that her Grandma (Zhou Shuzhen) back in China has cancer. It's a huge blow since they're really close, but Grandma doesn't know and the family wants it to stay that way. But just so they can all see her before she dies, they concoct a wedding where everyone can get together with her back in Changchun. The Farewell boasts a fabulous ensemble cast in a story that while set squarely within its Chinese culture and location feels universal in its truths about family relationships and the lengths we'll go to for someone we love.
The film opens with Billi on a New York street chatting on the phone with Grandma aka Nai Nai who's in a Chinese hospital. It's clear they talk all the time and that there is a warm bond between them. But when Billi goes to her parents' house later, she notices something wrong with her dad and after some prodding, she finds out that Nai Nai has lung cancer. And if that's not enough, she's informed that as Chinese custom dictates, the family will not tell her. Billi is appalled. How can they keep it from her? "It's our duty to carry this emotional burden for her," her mother tells her. But as a first generation Chinese-American she has a really hard time with that sort of old world thinking, and when her parents inform her that she can't come to China for her cousin's wedding because she won't be able to keep the secret, she's ready to scream. But of course, she goes anyway, and while the rest of her extended family is keeping up the appearance of the happy wedding party, Billi struggles with the burden of keeping it together, while coming to terms with how family and culture connect in her life.
The film opens with a card telling you that it's "Based on an actual lie," setting you up for the emotional swings you should expect. What makes it an entertaining and heartwarming movie is that the scenes with the family together, though they've all moved away to different parts of the world, are so relatable with old memories bringing them back to their home culture and the warmth that this shared experience brings them all. And it's a great ensemble cast. But Awkwafina really stands out in this total departure from her broadly comic character in Crazy Rich Asians. Her Billi is cautious and wounded by the early childhood trauma of moving to a new country. But the warmth that comes through when she's with her Nai Nai is beautiful. The Farewell balances the seriousness of Nai Nai's predicament with some funny moments, too, and ultimately it's a pretty feel good flick. Having said that, bring some tissues anyway. Just in case.
[Mainstream Chick's take: I agree! Awkawafina does a great job balancing the comedy and the drama in this bittersweet tribute to a Chinese grandma, based on a 'true lie'. There's plenty to relate to across generations and cultures. -hb]