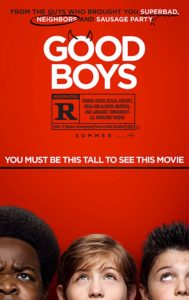 Good Boys. From the creative minds behind Superbad, Pineapple Express, Neighbors and Sausage Party…
Need I say more?
Actually, I do. 'Cause this movie isn't nearly as outrageous, raucous and raunchy as I expected it to be, given its pedigree. Sure, it has lots of sex jokes, alcohol and drug references, and squirm-inducing moments involving tweens. But it's also surprisingly sweet – and very funny. It's a bit like watching Stand By Me, without the spectre of death.

The movie follows three childhood best friends — Max (Jacob Tremblay, Room, Wonder), Thor (Brady Noon, HBO's Boardwalk Empire) and Lucas (Keith L. Williams, Fox's The Last Man on Earth) — doing their best to navigate the newfound maturity that comes with entering sixth grade.
The casting is spot-on. And while Tremblay's character drives the main narrative, each kid gets his own story arc and moment to shine. The funniest moments are derived from watching 12-year-old boys learn and say wildly inappropriate things out of sheer naiveté and feigned bravado. It makes for a comical mix of innocence and debauchery tinged with a hint of nostalgia for that awkward turning point in early adolescence. Consider it a prelude to coming-of-age dramedies like Eighth Grade, Booksmart and Blockers.
Here's the gist of the plot: Max's dad (Will Forte) goes off on a business trip and expressly warns Max not to touch his prized drone. But then Max gets invited to his first kissing party and – needing some pointers on how to kiss – he decides to use the drone to spy on a teenage couple making out next door. Hilarity and hijinx ensue as Max and friends get caught snooping, lose the drone, have a brush with the law, engage in a paintball battle with some wasted frat boys, and test the bonds of friendship. All before dark.
The relative tameness of Good Boys (compared to the likes of Sausage Party and Pineapple Express) helps explain how and why the parents of these fine young actors gave it their okay. They probably laughed their a$$es off reading the script. However… whereas a strong case can be made for showing the R-rated Eighth Grade to eighth graders and Booksmart to older teens, you can't go sending your sixth graders to this one even if it is ultimately a heartwarming flick about friendship, and being 12.
Good Boys delivers 90 minutes of consistent laughs. It's not a must-see in theaters, but it's also not a waste of time if you're in the mood for a solid adult comedy starring some very talented kids who aren't nearly old enough to tag along.
NOTE: THIS IS THE RESTRICTED RED BAND VERSION OF TRAILER. VIEWER DISCRETION IS ADVISED…