Mainstream Chick and I both watched this one at the Middleburg Film Festival. It's a family melodrama with a capital "F." At its center is the African-American Williams family, whose patriarch is a driven man who made something of himself and expects nothing less from his son, pushing him to the breaking point. It's an emotional roller coaster of a film that shocks and aches and takes a deep dive into the meaning of love and family. It's not a perfect film, but it's definitely worth seeing for its insistent style and excellent performances.

Mainstream Chick had more than a passing interest in this one. Here's what she had to say about it: Waves became a must-see because my podcast partner Charlie Juhl and I were slated to interview the director Trey Edward Shults (Krisha, It Comes at Night) and two of the actors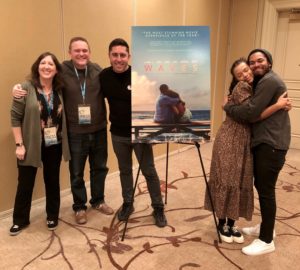 , Kelvin Harrison, Jr. and Taylor Russell, the following afternoon (the proof is in the pic!).
Waves is a bittersweet, intense drama about an affluent African-American family in suburban South Florida whose picture-perfect world begins to unravel, and tragedy ensues. The film is constructed in a rather unconventional way, in two distinct parts separated by a climactic event in the middle. Best to just go along for the ride, even if it does take some uncomfortable turns. The strong ensemble cast includes Sterling K. Brown, Renee Elise Goldsberry, Alexa Demie and Lucas Hedges. There's some major sensory overload going on, particularly in the first half, and this film won't be everyone's cup of tea. But again – excellent performances all around. (note: Shults, Harrison and Russell were an absolute pleasure to talk to. Click here to listen to the special bonus edition of the Cinema Clash podcast featuring that interview, and while you're add it, please take a moment to subscribe and rate the podcast. Don't have iTunes? Listen here.)
Arty Chick's take: This film is like watching a train wreck and then watching the train be put back on the tracks and drive on. It's really two films. The first part is about an African-American high school kid Tyler (Kelvin Harrison Jr.) whose life is spinning slowly but assuredly out of control. You know it can't end well and you can't turn away. His father (Sterling K. Brown, This Is Us) pushes him really hard as a wrestler to the point he's risking his health, and his girlfriend has even more life altering expectations. And it ends in tragedy for them all. Part two is about his little sister and life after the tragedy. Where the first half is high octane, the second is lyrical. And that second half doesn't work as well as the first. Perhaps it's because of the energy of the first, but it feels lacking. Little Sis (Taylor Russell) gets a boyfriend (Lucas Hedges) and after that first half you kind of expect things not to go well, but they drift through life. It's about healing wounds, both for her and her new beau. And by the end, the world is right again. But it's one of those films that has about five endings. You think, okay, that's it, but then there's more. It's worth seeing for the first half alone. The whole thing is well shot and acted, but it could easily have been cut down from its 135 minutes.
And then there's the issue with white director Trey Edward Shults telling this story about an African-American family. At the Q and A after the screening we saw, he explained that the central father-son story was based on his own experience. So you're left to wonder why then, place the toxic masculinity of it in a black family? Nevertheless it is a heart wrenching story.