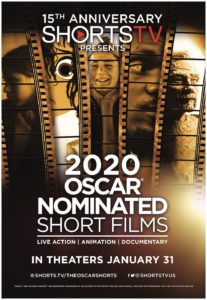 If you're planning to watch the Academy Awards this weekend, chances are you haven't had a chance to catch the shorts. I mean, who does? Unless you're lucky enough to go to a lot of the festivals where they're shown or search out the few that are streaming online, you only have a week in the theaters before you have to fill in a ballot at your Oscar party. And how are you supposed to win that pool without a bit of help?
There are three categories – Live Action, Animation, and Documentary. And short is really a misnomer for some of them. They can be up to 40 minutes and several of them are right at the limit. But I always enjoy watching them, and this year's were a more diverse selection than the last few years. So here's my yearly plea to theater owners out there: "Please start showing a short before the feature!"
And here's my rundown/cheatsheet for Oscar night:
LIVE ACTION SHORTS
BROTHERHOOD by Meryam Joobeur and Maria Gracia Turgeon
When Mohamed's son unexpectedly returns home to Tunisia after having run off to join ISIS, there's no big happy reunion. Instead Mohamed it suspicious, thinking he might indoctrinate the other sons and also because Malek brought a young pregnant niquab-draped wife with him. This one is beautifully shot and several of the young freckle-faced actors seem to come from the same family. It's a tense, sad film.
NEFTA FOOTBALL CLUB by Yves Piat and Damien Megherbi
This one is set in Tunisia. A couple of brothers are out playing somewhere near the border of Algeria when they find a headphones-wearing donkey carrying bags of white powder. They take the donkey and its cargo home, and while the older brother realizes that it could be a cash cow, the younger brother uses the powder as he sees fit. This is a fun little film. Well acted, nicely paced.
THE NEIGHBORS' WINDOW by Marshall Curry
New York apartments often look out on other apartments. In this short, a couple with 3 small children become obsessed with the new neighbors across the way who seem to enjoy life to its fullest. I liked this one, but felt it was a bit long.
SARIA by Bryan Buckley and Matt Lefebvre
This short is based on a true story. The film center on two orphan girls in a group home in Guatemala where rapes and beatings are a usual part of their lives. They dream of escaping and along with the boys' home eventually stage a breakout. But they're caught and when they come home, they're locked in a room, which catches fire and 41 girls die. This one is grim, but elevated by the two young actresses who play Saria and Ximena.
A SISTER by Delphine Girard
An emergency services dispatcher gets a call from a woman who seems to be mistakenly calling her sister to tell her she'll be home late and to take care of the kids, but the dispatcher is smart enough not to hang up, and as the film unfolds it becomes clear that the caller is actually being kidnapped. It is a very taut thriller. It's well done, but I didn't feel it was terribly original since it was very reminiscent of one of my favorite features of the last few years, the Danish film The Guilty.
And the Oscar goes to (IMHO) Brotherhood.
ANIMATED SHORTS
DCERA (DAUGHTER) by Daria Kashcheeva
As her father is on his deathbed, a woman looks on, and they both think back about their lives together, the good times and those when they broke apart. This short makes the most of the art of animation. It's stop motion and dialogue-less. But the emotion that comes through the story will make you cry.
HAIR LOVE by Matthew A. Cherry and Karen Rupert Toliver
An African American dad learns to do his daughter's hair, a task her mother, a natural hair vlogger who's dying, normally does. It's the most normal animation of the bunch. But it is light and very sweet.
KITBULL by Kathryn Hendrickson and Rosana Sullivan
A cute little stray kitten makes friends with an enthusiastic pitbull and helps him escape from his abusive owner. As the new owner of a pitbull mix myself, I was of course sucked into this one. But, best of the bunch. Not really. It's another with some fairly standard animation, but it sure is a sweet one. Try not to cry.
MEMORABLE by Bruno Collet and Jean-François Le Corre
An artist slowly begins to suffer from a neurodegenerative disease, warping the world around him to be unrecognizable, as his wife watches. This one is also amazing animation. The artist's world morphs in ways that the artist might paint it. It's a sad but beautiful tale.
SISTER by Siqi Song
A Chinese man looks back on his childhood growing up with his little sister. I loved the felt animation in this one that gives it a very memorable look. It starts off pretty straigforward about siblings, but then takes a poignant turn. Great story and animation.
And the Oscar goes to (IMHO) Sister.
DOCUMENTARY SHORTS
LEARNING TO SKATEBOARD IN A WARZONE (IF YOU'RE A GIRL) by Carol Dysinger and Elena Andreicheva
Post-Taliban Kabul isn't a great place to grow up, but as this short demonstrates, there are some good things happening there, particularly for girls. Skatistan is a place of empowerment where girls can go to school and learn to read and write, and also to skateboard. The skateboarding is all about teaching them about their inner strength. It's an uplifting film.
WALK RUN CHA-CHA by Laura Nix and Colette Sandstedt
Chipaul and Millie Cao fell for each other when they were young in Vietnam during the war, but Chipaul escaped to the US. Fortunately they reunited in the 1980s in Los Angeles and discovered a mutual love of ballroom dancing that has allowed them to rekindle that spark. It's a sweet film, but not a lot of substance like most of the others.
LIFE OVERTAKES ME by John Haptas and Kristine Samuelson
This one is just SAD. Refugee children in Sweden are coming down with something called Resignation Syndrome, where they just go to sleep for months or longer. Usually it's when their families are being forced to return to the traumatic places they came from. The film follows several of them and their families, but doesn't give a lot of hope, since they're still sending families back.
ST. LOUIS SUPERMAN by Smriti Mundhra and Sami Khan
Bruce Franks Jr. is an amazing man. His brother was shot and killed in front of him at the age of 9. He's raising a son of his own, and after the tragedy in Ferguson, he became an activist and was elected to the Missouri House of Representatives. The legislation at the top of his list is to declare youth violence a public health emergency in Missouri. And while he's taking care of his community and his family, he really needs to take care of himself. This one is uplifting and sad and very well done.
IN THE ABSENCE by Yi Seung-Jun and Gary Byung-Seok Kam
This is a ripped from the headlines doc. In 2014 MV Sewol ferry sank off the coast of South Korea killing more than three hundred people, a large proportion of them schoolchildren. The film takes advantage of the tons of footage that was shot at the time, as well as text messages sent by the doomed kids to their families. The emergency services people at the time were filmed talking about the optics and dropped the ball multiple times when they might have saved the people on the ship. Ultimately the President of the country was brought down over her handling of the tragedy. This one is less about character and more about the power of the people to take the government to task. It's very well done.
And the Oscar goes to (IMHO) St. Louis Superman.
[Mainstream Chick's take: I'm with Arty Chick and her appeal to make these shorts more accessible to the masses! An animation short or two (e.g. Hair Love) occasionally makes it into theaters before a feature film, but they all deserve some love. The shorts are mini-movie gems. They are also really, really hard to rank for consideration come Oscars time because they are apples and oranges. The more I think about one over another, the more I change my mind about what I hope – or think – will win. So while I did offer up some predictions in my Oscar preview podcast, I'm okay with just about any of them rising to the top (for the most part). For more, check out the following Cinema Clash podcasts featuring Oscar predictions, and a review of the Shorts -hb]
No Comments Yet
You can be the first to comment!
Leave a comment