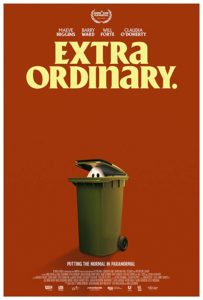 This seems like the perfect time for a horror romcom and this light little film from Ireland will surely transport you away from the world of campaigns and viruses for 93 minutes. The plot revolves around sweet Rose (Maeve Higgins) who's a driving instructor trying her best to ignore her supernatural ability to see ghosts. But when she's asked to help a family exorcize the wife/mother who's making them crazy, she meets handsome widower Martin Martin (Barry Ward). Unfortunately, his daughter is kidnapped shortly afterwards by a satanist who needs a virgin sacrifice, and so Rose and Martin team up to save her from the evil clutches of one-hit-wonder and Satan's disciple Christian Winter (SNL's Will Forte) who's only doing the evil deed because he wants another number one hit. It's all very silly and a fun ride.

Rose's father was a famous paranormal personality. But his death weighs on her and she's tried to ignore her gifts. She comes home from work every day, and her phone is filled with messages from locals asking for her help with the many ghosts that haunt them. But she ignores them, until she meets Martin who pretends to need driving instruction to get her attention. But when his daughter is kidnapped, the two of them become a team collecting ectoplasm from every one of those annoying callers Rose had previously ignored. And of course that creates a connection that blooms.
Maeve Higgins who plays Rose is the reason this film works. You really like her from the moment she comes home from work and kicks off her pants to sit on an exercise ball and eat yogurt. The chemistry between her character and Martin is equally endearing. I was a bit annoyed by Will Forte's satanic rocker, but if you liked his humor on SNL or his other post-SNL forays, you'll probably just go with it. Extra Ordinary isn't a great film, but as a fun diversion from our current crazy world, it totally works.
[Mainstream Chick's take: There's a reason 'Extra Ordinary' has a near perfect score on Rotten Tomatoes. The film practically dares you not to like it. Even the production notes were a fun read. The writer/director team of Mike Ahern and Enda Loughman (apparently mostly known for animation and live action shorts, music videos and TV commercials) describe their first feature film as a "mysterious romantic oddball ghost story love comedy adventure." And that's exactly what it is! Part Ghostbusters, part Ghost Whisperer, part… weird romantic comedy. Maeve Higgins is most definitely the heart and soul of the film but all the performances are good – including Will Forte as a washed up Satanic one-hit wonder hoping to repeat the success of his bizarrely captivating tune "Cosmic Woman" (see video clip below). You can even surf on over to a website devoted to Rose's Driving School. It's hard to explain exactly why this movie works; just know that it won't let you down. Unless, perhaps, you're a floating ghost. -hb]
No Comments Yet
You can be the first to comment!
Leave a comment