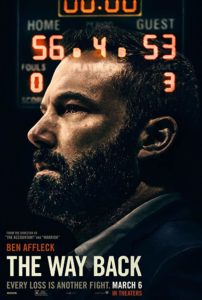 Ben Affleck was fresh out of rehab when filming began for The Way Back, and that had to make the process extra challenging, awkward, even painful – for the actor, his costars and the filmmakers. Affleck, an alcoholic who acknowledges that his addiction contributed heavily to the implosion of his marriage plays an alcoholic whose addiction (compounded by personal tragedy) contributed to the implosion of his marriage. Now both are on the path to redemption. Hopefully.
In many ways, The Way Back is a conventional sports drama. A struggling high school basketball team is whipped into shape by a tough but inspiring coach, and suddenly finds itself on the road to the playoffs, learning valuable life lessons along the way about teamwork, sacrifice, respect, personal responsibility and consequences.
But that's only part of the story.
The Way Back is also a psychological drama and character study of the coach, Jack Cunningham (Affleck), a guy who went from basketball phenom in high school with a full-ride scholarship to college, to a guy who abandoned the game and saw his life's ambitions drown in a bottomless cup of beer and alcohol. When he's asked to return to his alma mater (a Catholic school with a zero-tolerance policy) to coach, Cunningham reluctantly accepts, knowing full well that his sobriety is tenuous at best. He also knows it may be his last best shot at turning his life around.
I'm a fan of director Gavin O'Connor, best known for the crowd-pleasing sports dramas Warrior (2011) and Miracle (2004) as well as the action crime drama The Accountant (2016), also starring Ben Affleck. The Way Back balances elements from all three of those films and presents a sobering yet hopeful portrait of a man confronting his demons while challenging himself and others to forge a path ahead.
It's hard not to watch Cunningham's beer binges and breakdowns without thinking about Affleck's real-life relapses (and praying that it's apple juice or water in all those cups and bottles on set!). Affleck has been leveraging his personal story in promoting the film and it's easy to see why. It lends an air of authenticity and rawness to the film – and his performance – that makes the way it ultimately plays out feel both promising and somewhat indeterminate. Welcome to art imitating life, and vice versa.
No Comments Yet
You can be the first to comment!
Leave a comment