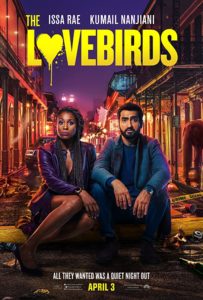 Oh, LoveBirds, how cruel you are! Setting us up to believe we're in for a fun, engaging romantic comedy, then plunging us into the depths of stupidity for a solid hour before ending with a formulaic flourish. If you took only the very worst parts of Issa Rae's recent romantic drama The Photograph and Kumail Nanjiani's recent action crime comedy Stuber, then you'd have the bulk of The LoveBirds. The movie takes the likeable pair and puts them in the middle of a painfully absurd murder mystery that even by Netflix romcom standards is a major disappointment.
The movie starts out harmlessly enough, in typical meet-cute fashion. Leilani (Rae) and Jibran (Nanjiani) are out on their first date and it goes very well. Fast-forward four years and the couple is living together, but on the brink of a break-up. And just as they're formally calling it quits during a quippy car ride, they crash into a bicyclist. But he's okay. Until he's not. The next hour is a hot mess as Leilani and Jibran try to unravel the identity of the dead bicyclist, find the guy who killed him, and make sure they don't land in jail. The trail leads to blackmail, a sex cult, frat boys, a dirty cop, and I don't know what else. I totally zoned out.
Of course, the dangerous, high-stakes adventure gives the couple a chance to re-evaluate their relationship and rediscover the spark. How charming it all could have been.
Bottom line: don't be suckered into watching The LoveBirds just because it's trending on Netflix or your algorithm tells you to.
The trailer is the movie in a nutshell. So watch that, enjoy a few chuckles, and move on.
p.s. I should note that some of my friends and family found this movie perfectly enjoyable in a "mindless entertainment" sorta way. I guess it does 'sorta' qualify as that.
No Comments Yet
You can be the first to comment!
Leave a comment