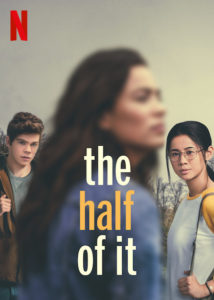 If you're looking for a light as air romantic comedy, Netflix has you covered with its latest Cyrano de Bergerac retread. In this version, set in a Pacific Northwest high school, a Chinese-American girl with prodigious verbal gifts agrees to ghostwrite a love letter for an inarticulate jock to a beautiful girl who becomes the object of both their desires. It's a sweet version of the old story and surprisingly charming.
Ellie Chu (Leah Lewis) lives with her Dad at a train yard and makes money on the side writing term papers for all the jocks in the school. But when she's approached by Paul Munsky (Daniel Diemer) who wants her to make his love letter sound smarter, she initially turns him down, but then relents. The object of his affection is the beautiful Aster Flores (Alexxis Lemire) who Ellie has been worshiping from afar. And when Aster writes back to Paul, Ellie is able to vicariously tell her how she feels about her. For a bit, she's able to convince Paul that the seduction through letters is the best way to woo Aster, but when he finally decides to go for the in-person date, it's almost a disaster, until Ellie texts Aster pretending to be a tongue-tied Paul.
What's sweet about the film is the way that Ellie and Paul get to be friends, to care about each other. I was wondering for a bit if they were going to end up together. He's more than just a dumb jock. His family is in the sausage making biz, but he wants to branch out and explore new recipes. And they're good! And he cares about Ellie, defending her from the taunts of the other jocks, helping her with her outfit for Senior Talent Night, and even being there for her when she finally expresses her feelings for Aster. And through the experience Ellie learns a lot about love and friendship and herself. (I think I said the same thing about How to Build a Girl recently. Guess that's what coming of age is really all about in a perfect world.)
There's a lot to like about The Half of It. Leah Lewis is great as the girl on the edge of adulthood who hasn't let anyone into her life yet. Daniel Diemer is also pretty wonderful as the jock with a big heart. I also liked that Ellie and Aster were bookish and traded literary quotes like some kids trade lines from their favorite movies. It's a smart film that won writer/director Alice Wu the Founders Award for Best Narrative Feature at the 2020 Tribeca Film Festival (awarded this year without a real festival). This is an easy one to watch and ultimately worth your while if you're into well-written characters looking for love.
Streaming now on Netflix.