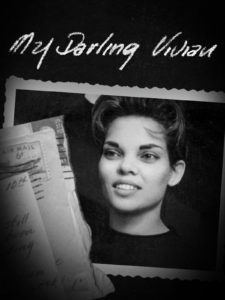 My Darling Vivian is a love letter to Johnny Cash's first wife Vivian Liberto with whom he had four daughters and initially a great romance. Narrated mainly by those four daughters, it is an eye opening corrective to the Johnny and June story we've all heard that entirely erased Vivian from his life. The documentary is also an intimate chronology of Cash's rise, his addictions, his failures, and his family.
Vivian was a nice Catholic girl from San Antonio who met Johnny at a skating rink. He was in the Air Force and shipped out shortly after they met. But they wrote copious letters back and forth while he was overseas. Fortunately, Vivian saved every one and they paint a picture of a passionate relationship. They married as soon as he returned and Rosanne was born 9 months later. Johnny's first single came out one month after that and he was a hit. They had three more daughters, but Johnny was on the road a lot and things just crumbled. The kicker was when he started getting high all the time. And when he was arrested in 1965 and she accompanied him to the trial, a photo of her in the newspapers created a huge stir. Her skin appeared dark and a rumor that Cash was married to a black woman became a major story bringing hate group threats and cancelled concerts. But still Johnny was on the road too much and Vivian tried to get his attention by filing for divorce, believing he'd come home and work things out. He didn't and the divorce went through after 12 years of marriage.
Both Johnny and Vivian remarried. His marriage to June Carter was splashed all over the news, where she began referring to Johnny's four daughters as her own, which hurt and angered Vivian. The picture the documentary paints of June is not all that pretty, definitely not the same June as in Walk the Line. But it's the picture of Vivian that is at center stage (also not the same person as portrayed in Walk the Line.) She married one of the biggest music stars of the time, but didn't want to be part of the public life. She was isolated with her daughters and didn't seem to have outlets of her own or many close friends. She could only watch her husband from afar, and this after such a passionate courtship and early marriage. It's a very sad story. But one that needed to be told.
The film is showing in select cities through Virtual Cinema screenings. Check here for your local theater!