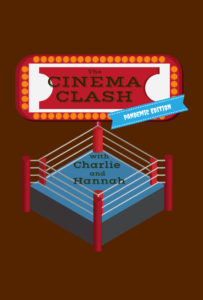 It feels like films are streaming our way faster than we can possibly watch, especially when day jobs get in the way! So once again, I refer Chickflix readers to my Cinema Clash podcast for lively discussion relating to some of my most recent viewing adventures! They include: the odd psychological drama Shirley starring Elisabeth Moss as a fictionalized version of acclaimed horror/mystery writer Shirley Jackson; You Don't Nomi, a documentary that seeks to spin the 1990s fleshy flop Showgirls as some sort of misunderstood cinematic masterpiece; Spelling the Dream, a conventional albeit interesting documentary about Indian-American kids' long-running domination of the National Spelling Bee competition; And We Go Green, a documentary about Formula E racing (yes, there is such a thing as environmentally-friendly racecars!); and, my 10-episode binge of the sitcom Space Force on Netflix.
All that and more in a special three-way quaranstream edition of the podcast featuring my regular co-host Charlie Juhl, and a virtual guest appearance by my college pal and devoted Cinema Clash fan, Brett Sonnenschein.
Tune in!
Listen to "Shirley There is More to Showgirls" on Spreaker.