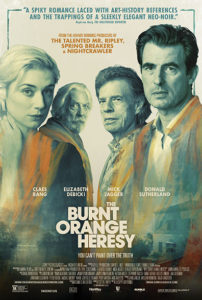 The Burnt Orange Heresy is an 'arty' film, in more than ways than one. It drew me in early on, meandered ever so slowly in the middle, then came back around to end with an artistic, cerebral flourish. The best part about the film is that it absolutely grants permission to regurgitate some lofty-sounding critique replete with praise and consternation for the way it uses art as a backdrop for exploring themes of manipulation, greed, romance, mystery, addiction and mental illness. That – and it's got a darned good cast.
As the film opens, we meet James Figueras (Claes Bang), a charming and charismatic art critic who's had a fall from grace and now gives canned lectures on art history to witless tourists in Milan. On this particular day, one particular tourist – an attractive and mysterious American named Berenice Hollis (Elizabeth Debicki, Vita & Virginia, Widows) catches the teacher's eye – and soon thereafter, a lot more (earning the film its R rating).
Next thing you know, they are venturing off together to a lavish Lake Como estate owned by a powerful patron of the arts, Joseph Cassidy (Mick Jagger), who has summoned James to his home with a unique job offer: steal a masterpiece from the legendary reclusive artist James Debney (Donald Sutherland). Any masterpiece will do. In return, James is promised lots of money and the chance to interview Debney and perhaps find redemption in the art world.
Where does Berenice fit into the picture? Therein lies much of the film's intrigue. Chances are you know where things are headed if you've read the 1971 book by Charles Willeford. Or maybe not. All I'll say is this – things get really weird, and dark.
The Burnt Orange Heresy is ultimately a mystery thriller that is both satirical and deadly serious about art, and the characters who treasure it. Ironically (or coincidentally?), Claes Bang played the lead in another satire set in the art world, The Square, which won the 2017 Cannes Film Festival's Palme D'Or.
I wasn't too keen on The Square. And I'm somewhat lukewarm on The Burnt Orange Heresy, though I did appreciate the interesting chemistry between Bang and Debicki, the twists and turns of the last half hour, and the thought-provoking ending. Let's call this one an arthouse film with a tinge of "mainstream" appeal.