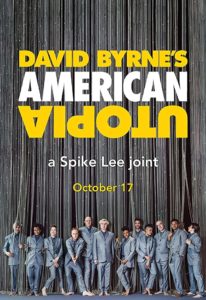 As a Talking Heads fan from way back, I was anxious to see this documentary of a live Broadway show based on Byrne's latest album. And it's fabulous! It all takes place in front of a theater audience on a minimalist stage, but it's mesmerizing. Byrne, barefoot and dressed in a gray suit, is center stage, surrounded by his band, an uber-talented group of performers who are choreographed to dance and sing all while playing incredible music. They're also barefoot and dressed in gray suits. But as minimal as the sets and costumes may be, the film is full of whimsy and inventive stagecraft all perfectly captured by director Spike Lee. And you don't have to be a Talking Heads fan to enjoy it.
David Byrne's sense of the absurd is felt throughout. He tells stories between the songs, one about the synapses we have as children that disappear. Another about a Dadaist nonsense song that went on for 45 minutes. He sings a song about parts of the human brain. But he also brings stark realities of our current politics into his show with performers kneeling with Colin Kapernick, his own pleas to the audience to get out and vote, and he and the band perform a powerful protest song from Janelle Monáe called "Hell You Talmbout" as the names of Black victims of police brutality are chanted.
The film/concert is totally balanced though between the exuberant, the serious, and the playful. His performers/band look like they're having the time of their lives. And Lee's masterful direction, sometimes shooting from overhead or behind, gives you an extraordinary appreciation of the choreography that brings it all alive. Byrne makes you think, and smile, and feel the need to do more. And the music? It's a wonderful mix of his latest album, a collaboration with Brian Eno, and some of our old Talking Heads faves. And as performed by his on-stage band, just 11 people, it's heavily percussive and worthy of its own album. (You'll probably be buying or streaming that Broadway Original Cast Recording after you see this!)
I know a lot of us would love to be able to go out to a concert or theater performance right now. Watching David Byrne's American Utopia should slake that thirst perfectly. It's the best concert film I've seen in years. And I highly recommend it.
On HBO and HBO Max on Oct. 17