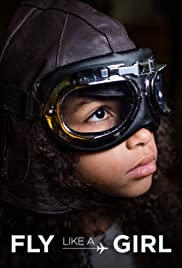 If you've got a girl or know a girl interested in flying – in an airplane, on a shuttle, or even in combat –  then Fly Like a Girl is a must-see documentary, designed to help their dreams take flight. It plays like a standard inspirational sports documentary that encourages young athletes to aim high, even when the odds may be stacked against them. Only in this case, the 'sport' is aeronautics. Fly Like a Girl showcases a diverse group of modern women who've made a mark in what has largely been viewed as "a man's world" and pays homage to some legendary female aviators who helped pave the way. Women defying gravity and stereotypes to do what they love. #GirlPower
The film begins with an introduction to a spunky 11-year-old girl named Afton who collects and creates airplane toys and mementos and aspires to be a professional flyer. Perhaps in a stunt plane or as a firefighter pilot. The sky's the limit, thanks in part to the women featured in the film, including U.S. Senator (and retired Army National Guard Lt. Colonel) Tammy Duckworth, veteran astronaut Nicole Stott, U.S. national aerobatic champion Patty Wagstaff, and America's first African American female combat pilot Vernice Armour. Their motivational stories are intercut with archival footage and photos of women who broke barriers. And it shows that 'feminine' and 'STEM' (science, technology, engineering, mathematics) are not mutually exclusive. These gals are fly. And competitive. And determined. And passionate.
Fly Like a Girl is the first feature film directed by Katie McEntire Wiatt. It's a solid debut, though it felt like the film was on final approach at the 65-minute mark, then went on for another 20 minutes or so. The information was interesting, but felt a bit tacked on before circling back to young Afton and a bright future ahead. I hope the filmmakers keep tabs on Afton to see where she eventually lands!
Fly Like a Girl is available now on all major VOD platforms.