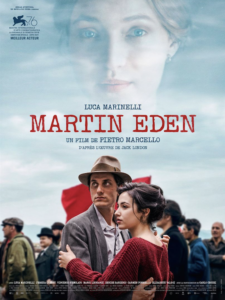 Adapted from a Jack London autobiographical novel, Martin Eden is the story of a young working class Italian man who accidentally falls into the lives of the upper class and decides that he deserves a better life, and that writing will get him there. Back when there were still live film festivals, Luca Marinelli (The Great Beauty, The Old Guard) was deservedly recognized as Best Actor at the Venice Film Festival for his performance as the title character. His transformation from itinerate sailor to acclaimed writer feels like the stuff of classic Italian neorealistic cinema, somewhat a mirror image of The Conformist. Situated in a societal shift where socialism is shaking up the lives of the bourgeois, Martin stands apart, viewing both sides from his own distinct perspective. The film definitely embraces 20th century European intellectual pretensions, and despite being a familiar poor kid makes good story, it's absorbing and entertaining.
Martin Eden is set in an ambiguous time. I kept trying to figure out just when it was, but documentary film clips from various eras in the 20th century intrude, making it impossible and keeping you off kilter and unable to tie anything happening to actual history. But the main story is Martin. At first he's a sailor hanging out in Naples between stints at sea. He meets a girl in a street dance and they hook up. But one day, he sees a young man being beaten up and intervenes. And that man is the son from the very wealthy Orsini family who are very thankful to him, inviting him to dine with them. While he's at their mansion he meets the beautiful daughter Elena (Jessica Cressy) and he's instantly drawn to her. And slowly she is to him, too.
But he's a rube, uneducated though with big ambitions and Elena tries to help, suggesting he go back to school. But he's impatient and has things to say, so he reads everything he can and starts writing and sending his work out to magazines, collecting more than his share rejections. Meanwhile the country is experiencing an uprising among the proletariate and his friends try to rope him into being a part of the socialist movement. But even though he has a lot to say about it, and pretty eloquently for someone who isn't formally educated, he is no joiner, preferring to put his thoughts on paper. And eventually his writing begins to get attention. But as his ideas about working class lives become more clear to him, his relationship with the privileged Elena begins to falter.
The last part of the film is a flash forward to Martin who has become a famous and successful writer. And it has not made him happy. As he speaks before a sycophantic audience, it becomes clear that he's become the person he railed against before and he's acutely aware of it. It's a sad but powerful performance from beginning to end. You might not like Martin, but you feel for him. It's definitely worth watching, especially if you're into Italian cinema and European intellectuals.
The film will be screening in select theaters and in virtual cinemas starting October 16. (There have been two other film adaptations and an English version is also in the pipeline.)