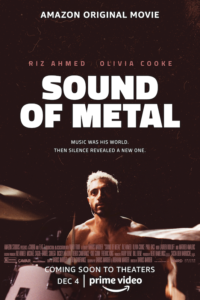 At first, Sound of Metal reminded me of Whiplash. Then, A Quiet Place. And then, Children of a Lesser God. That's quite a unique blend; and Sound of Metal is quite a unique film. It's about a punk-metal drummer named Ruben (Riz Ahmed, Nightcrawler) who loses his hearing, and with it, his sense of self. As a recovering heroin addict, four years clean, the experience threatens to send Ruben back down that dark path, so his girlfriend/bandmate Lou (Olivia Cooke, Me and Early and the Dying Girl) encourages him to check into a secluded rehab facility for deaf addicts. There, he meets Joe (Paul Racie), the program director and rules czar who assigns a scared and skeptical Ruben one job: to learn how to be deaf.
It's not an easy ask. Ruben is used to being on the move. 'Home' is a cramped Airstream RV that he and Lou would live and ride around in, while traveling from gig to gig. Music – and Lou – are his salvation. They are his world. Until his world starts to unravel, in silence.
The story alone is an interesting one. But it's the use of sound that sets it apart. The sound design is designed to bring the audience into Ruben's world – into his head, really. We hear what Ruben hears. And writer-director Darius Marder (The Place Beyond the PInes) employs the use of captions to clue us into the myriad sounds that Ruben is missing or that come through distorted – whether it's dialogue, traffic whizzing by, birds chirping, or any of the everyday sounds we often fail to register, at least consciously.
As Ruben privately hangs his hopes on expensive implant surgery, he also begins to adapt to his situation, learn American Sign Language (ASL), and become a contributing member of the community of deaf people who live with and around him. They firmly believe that deafness is not a disability to be "fixed" with surgery or other medical means.
Director Marder (who co-wrote the script with his musician brother Abraham) immersed himself in Brooklyn's deaf community to assure authenticity and craft a film that could work for hearing and deaf audiences. I suspect the film would be more powerful on a big screen, captive in a theater, without distraction. (Oh, those were the days…) As it is, I found myself grateful for the volume controls when the music – and sounds – were particularly LOUD or grating.
With an eye toward award season, Sound of Metal goes on my early list of potential noms for best actor (Ahmed, a British actor, rapper and activist), supporting actor (Raci, who is the child of deaf parents with ASL as his first language), supporting actress (Cook) and sound design (Nicolas Becker). Ahmed in particular does a fantastic job conveying the physical and emotional pain that Ruben is going through, and the trade-offs he must consider as he forges a new path.
Sound of Metal is available via Amazon Prime Video December 4.