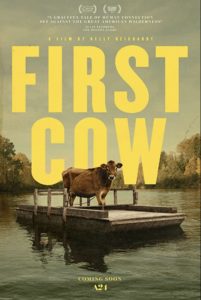 Sometime in the early 19th century somewhere in the Pacific Northwest two men meet in the woods near a trappers' encampment. One of them is naked. What follows is the story of their friendship and entrepreneurial malfeasance. It's a tender tale in about a couple of kindred spirits in an inhospitable place helping each other get by with their wits and their hearts.
Cookie (John Magaro, The Big Short, "The Umbrella Academy") is a cook, hitching his wagon to various rough-neck trappers to make a living as he make his way west. He's out hunting mushrooms for their next meal when he meets the naked King-Lu (Orion Lee, Justice League) who's on the run from some angry Russians after he killed a man. Cookie helps him escape but later they meet again in a frontier town where wealthy Chief Factor (Toby Jones, The Hunger Games series, Jurassic World: Fallen Kingdom) has just bought the first cow in the territory.
King-Lu invites Cookie over to his shack and while he's out chopping wood for a fire to warm the place, Cookie takes it upon himself to clean the house. And so begins a beautiful friendship. Good food is hard to come by in the hinterlands, and before you know it, Cookie is frying up a batch of sweet cakes that are made with a bit of purloined milk from the Chief's cow. And with King-Lu's urging they begin selling them in the village market. And men are lining up for them. When asked about the ingredients, King-Lu says it's an "Ancient Chinese secret." But as the demand rises, procuring the milk in the middle of the night becomes more dangerous. And the scenes of their theft become more and more suspenseful. And of course they get caught and have to run from Chief Factor's men.
There are so many things to like about this film. First of all, there is a Chinese male lead, something that is rarer than a cow in 19th century Oregon. The second thing that makes it feel different from most other westerns is that the indigenous people are everywhere and not in stereotypical dress or roles, speaking in their own tongue. And finally, the relationship between King-Lu and Cookie is deep and warm, one of the best depictions of male love I've seen in ages (without a hint of homosexuality.) And while the telling is languid, the film never lags. It gently brings you along through the forests and the mud with two men you're pulling for all the way. Magaro and Lee have a great chemistry and it's a pleasure to watch them, even in the many silences. I highly recommend this one to people who appreciate small films about human connection.