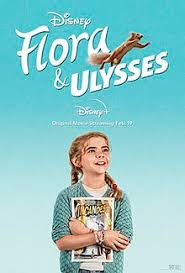 I'm not exactly the target demo, but I thoroughly enjoyed Disney's Flora & Ulysses. It's a family adventure comedy based on the Newbery Award-winning book "Flora & Ulysses: The Illuminated Adventures" by Kate DiCamillo (whose novel "Because of Winn-Dixie" was turned into a movie in 2005). Flora & Ulysses stars Matilda Lawler as 10-year-old Flora, a highly-imaginative, self-professed cynic who saves a squirrel (CGI) from a tragic accident involving a vacuum cleaner. The squirrel is "born anew" as a rodent superhero with powers that include strength, flight, poetry, and a knack for antics that will unite Flora's fractured family and inspire a message of hope.
Alyson Hannigan (How I Met Your Mother, Buffy the Vampire Slayer) and Ben Schwartz (Parks and Rec, Space Force, voice of Sonic the Hedgehog) are suitably cast as Flora's lovable parents, Phyllis and George Buckman. Though going through a personal rough patch, the parents come together to support Flora, and protect Ulysses from a bumbling animal catcher who thinks the rambunctious squirrel must be rabid.
Child actress Matilda Lawler is definitely one to watch, as is Benjamin Evan Ainsworth. He plays a kid who moves in next door while recovering from a peculiar case of hysterical blindness. Chances are, Ulysses can help with that too.
Flora & Ulysses is cute family fare that feels like a throwback to family adventure films of my youth. It's available exclusively on Disney+ starting Feb. 19.
No Comments Yet
You can be the first to comment!
Leave a comment