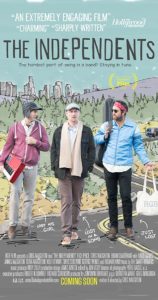 There are no big stars in this musical dramedy. It's a total indie flick. And it's a lot of fun. It tells the tale of three singer/songwriters all struggling to find a way forward, who bump into one another by chance and team up for one last stab at making it in the music world. It's no A Star is Born take though. It's a heart-felt buddy movie with some fine three part harmonies and well-drawn characters.
Rich (Rich Price) is not thrilled to be teaching undergrads and still working on a Ph.D. He'd prefer to be writing and singing alone in his apartment, and that's just what he's up to when Greg (Greg Naughton who also directed the film) knocks on the door. He lives next door and has heard Rich's songs. And before you know it the two of them are playing music together. Rich was invited to a folk festival in Ohio, but wasn't going to go until Greg presses him and they take off in Greg's van. Greg just needs to stop in Ohio to talk to his ex. Along the way they pick up a hitch-hiker, Brian (Brian Chartrand), who is initially a bit creepy, but turns out to be another great addition to the group. And soon they're making very sweet music together. But there's a wrench thrown into the works and they split up.
Then they find one another again and get a gig and find an agent who wants them to come to LA and perform and there's a road trip and some other road blocks, but they make it there and well, you just have to see what happens. It's a sweet film, a small film, a character and music driven film. And I really liked it.
I did not realize until the end credits that these guys are an actual folk-rock band called The Sweet Remains and this is their somewhat fictionalized origin story that they shot between gigs over the course of several years. They're now on my Spotify playlist. (Check out one of their music videos below.)
[Mainstream Chick's take: This may be a small indie flick, but it's got a cool vibe that broadens its appeal. It's an offbeat (no pun intended) drama that features brief appearances by some familiar faces including Richard Kind, George Wendt, and Broadway phenom Kelli O'Hara (who sadly does not sing in this movie!). I was ready for a nice mellow flick with a sampling of engaging folk-rock tunes, and The Independents definitely fit the bill. -hb]
It's streaming now through various virtual theaters.