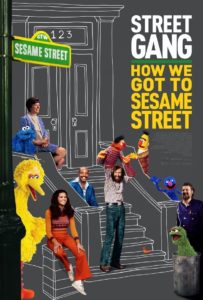 "Sesame Street" is a timeless classic and this documentary helps explain why. Street Gang: How We Got to Sesame Street takes a deep dive into the heart and soul of the long-running children's show, with a focus on its creators, including socially conscious television executive Joan Ganz Cooney, Sesame Workshop co-founder Lloyd Morrisett, writer/director Jon Stone and the name most people are familiar with, Muppets creator Jim Henson. Just as I learned a lot as a kid watching "Sesame Street," I learned a lot watching this documentary, including how it got the name Sesame Street; the vital integration of music into the program; the very deliberate and trailblazing efforts to show diversity and reach inner-city kids; the crafting of the show's curriculum, carefully cultivated by a team of professional educators and television writers; and the cast of characters on-camera and behind the scenes who became a family themselves. And who knew that Holly Robinson Peete's father played the original "Gordon" on the show?!
The 'Street' vibe is somewhat similar to that of the 2018 Mister Rogers documentary, Won't You Be My Neighbor because the time period and the mission share some overlap. The primary focus was always the kids — keeping them entertained and informed and educated without talking down to them. Adults could enjoy it too. I found it rather comforting to flash back to an age where Big Bird, Kermit, Bert and Ernie, Oscar the Grouch and others made an impression on my young psyche. And it's fascinating to see the original pitch reel and behind the scenes footage, and to hear personal accounts of how the "gang" created a cultural phenomenon that has lasted 50 years and reached more than 150 countries.
So go ahead and take the trip down memory lane to celebrate the impactful brilliance that was and is Sesame Street.
Street Gang arrives at select theaters on April 30 and On Demand May 7.
No Comments Yet
You can be the first to comment!
Leave a comment