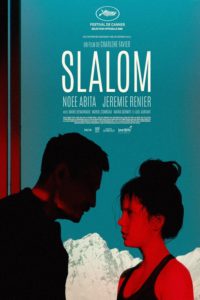 Competitive sports are hell on the body and the mind. Even more so when you're a teenager with no support system. In Slalom, Lyz (Noée Abita) is an ambitious and talented young skier who eyes the fulfillment of her dreams when she's accepted at a prestigious ski training school in the French Alps. She's just 15-years-old and still in high school, and pretty naive about the world. But ski pro-turned-coach Fred (Jérémie Renier) sees something in her and takes her on as his special case, training her hard and pushing her to be the best. And it works. She starts winning all the big prizes. But that's not all he wants from her. He's a predator, a control freak, and a sleaze. And she's too young to have to deal with that, especially when her mother is nowhere to be found. Writer-director Charlène Favier, herself a former competitive skier, says the film isn't exactly autobiographical, but it depicts the uneven power dynamic between athletes and their coaches that can and has crossed the line all too frequently in the sport. It's a powerful #metoo film with great performances.
At first Lyz is just one of the training cohort, but as she gets better and better, Fred's attentions zero in on her, as he sees his future tied to her success. At the beginning she has friends among the skiers, but as she wins and gets all Fred's attention, they too abandon her. She lives alone, her mother having taken a job in Marseille, and her emotional isolation gives Fred the opportunity to fill the void. He promises to be there for her. And then he goes over the line, sexually abusing her. But she's too afraid to say anything, lest she lose the one person who is there for her, not to mention her dream. It's insidious and unbelievable uncomfortable.
The film is beautifully shot. The scenes of Lyz slaloming down the course are shot with a camera that is right there with her, giving you a sense of the wild abandon that she must crave. Jérémie Renier (not to be confused with Jeremy Renner) is perfect as the coach, at once caring and tough, then morphing into the sexual predator and back. Lyz is Noée Abita's breakout role, and she's clearly one to watch. Her portrayal is notable for the way she's able to communicate a whole range of emotions without a word. And first time director Charlène Favier's close attention to the subtleties of their relationship elevates what might have made for a less compelling story. I highly recommend Slalom to ski fans, French film enthusiasts, and just plain film lovers.
In French with subtitles. Streaming April 9 in virtual cinemas. Find yours here.