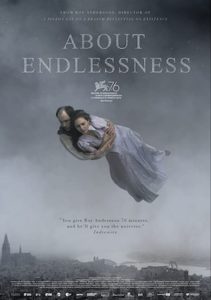 This Swedish film is less a single narrative than a walk through an absurdist museum, stopping to view a series of living tableaux, and then wandering on to the next. Some have a profound effect on you and some have you thinking, as a friend quipped as we strolled through an actual museum last week, "Life's too short." The film is from Roy Andersson, a famous art house director, and screams THIS IS ARTY!  It's definitely not a movie for the mainstream crowd.
Most of the characters are unhappy, enduring angst-filled lives. The film is bathed in a beautifully shot dreariness, and every scene is a single-take static camera shot. The narratives run the gamut from a man with flowers looking for a blind date that isn't coming, to a group of young women dancing in the street to the music from a cafe. All the little stories are disconnected from one another, with the exception of a couple about a priest who's having a crisis of faith. Loneliness is the major theme that runs throughout the "endless" film and there's no happy ending.  Fortunately it's just 76 minutes long. If you're into arty for arty sake, this is a film for you.
Watch the trailer and you'll pretty much know whether it's a film that will speak to you. 
For tickets and theaters, check out the official site.