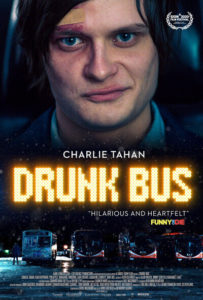 Slacker comedies aren't usually my thing. So I approached this little indie with a dose of skepticism about being its target audience. But it's not at all what I feared. It's a heartwarming flick about an odd couple comprised of a recently graduated artist who's pining for his lost girlfriend while driving a campus bus at night, and a heavily tattooed Samoan bodyguard who is hired to ride along with him after the kids on the bus get too rowdy, while offering him advice on how to move on with his life. Fortunately the script doesn't go exactly where you'd expect from that setup.
Michael (Charlie Tahan, "Ozark") is the driver. He's stuck in a big old rut, dreaming of his girlfriend who moved to New York after graduation, leaving him behind in cold and dreary Kent, Ohio, and driving the same route he drove all through college. Every evening he picks up an older man in a wheelchair who's nicknamed Fuck You Bob, since that's his answer to everything he's asked. And every night the guys at the frat throw food at the bus's windshield as he passes. Michael has a couple of friends who hang out on the bus with him, but his life is mostly a depressing mess. And then the drunk boys on the bus cross a line and hurt him. And the next day there's a hulking full face-tattooed guy outside his bus named Pineapple (Pineapple Tangaroa).
Michael and Pineapple become friends and Pineapple really seems to care about his new friend. He dispenses Samoan advice from time to time that makes Micheal roll his eyes. And Michael seems like he wants to fade into the woodwork most of the time, but Pineapple embraces his own over-the-top persona and can't stand for Michael to live an unfulfilled risk-free existence, and pushes him to break out. Pineapple's a good guy, though he has problems of his own it turns out. And that causes a rift in the relationship for a bit. But ultimately, Pineapple steers Drunk Bus in the right direction, and all is well.
The film works because the chemistry and performances of the two leads are up to the task. It also has a strong supporting cast to help it along. Ultimately, it's a fun ride worth taking.
Available On Demand (Amazon Prime, GooglePlay, iTunes, Microsoft Movies) and in Select Theaters Everywhere. Find Your Local Theater HERE
No Comments Yet
You can be the first to comment!
Leave a comment