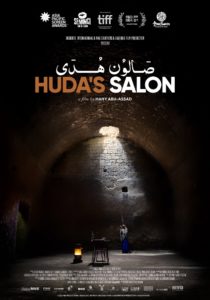 This riveting "based on true events" thriller from two-time Academy Award nominee Hany Abu-Assad (Paradise Now, Omar) is set in the West Bank. Reem (Maisa Abd Elhadi) is a young Palestinian mother married to a very jealous man. One day she visits her hairdresser, Huda (Manal Awad), and tells her all about her struggles with him as her little daughter sleeps just beside her chair. The two women clearly enjoy their gossiping and kvetching. After the new do, Huda offers Reem a coffee, only it's no friendly act, but a life altering event.
Soon an unconscious Reem is naked on a bed in the back room, and Huda is taking compromising photos of her with a man. When Reem awakens she's informed that she is will be working for the Israeli Secret Service if she wants the photos to remain secret. She's expected to constantly be on the lookout for intelligence that she will share with her handlers by calling a phone number. This presents Reem with two equally horrible choices: incur the wrath of her husband and possibly lose her life for shaming the family or betray her people.
Once she gets home she is frozen with fear of what is going to happen to her. But then Huda is captured by the Palestinian resistance, and Reem is even more petrified that her husband will find out, or worse, the resistance will label her a traitor and kill her.
The film cuts back and forth, from Reem's horror as her world moves closer and closer to disaster, to Huda's cat and mouse interrogation by an intelligent resistance leader. It's edge of your seat tension and a very smart script that deftly tackles the occupation along-side the entrenched patriarchy of the culture that has placed both of these women in precarious situations. Both women are excellent in their roles, with Awad striking a defiant tone in the face of her interrogator and Neem teetering on the edge of pure terror throughout. I highly recommend this one!
In theaters and streaming online March 4th.
No Comments Yet
You can be the first to comment!
Leave a comment