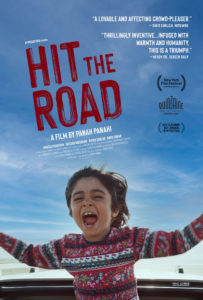 This wonderful road trip drama traverses the Iranian landscape with a family and their dog. Along for the ride are a mother (Pantea Panahiha) and father (Hasan Majuni) and their two sons, one grown (Amin Simiar) and the other a bouncing off the walls 6-year-old (Rayan Sarlak). The story comes together in small hints as the family deals with their circumstances, attempting to shield the younger son (and the audience) from what is actually happening. It is by turns tense and warm and funny.
The film begins mid-trip as the family is stopped by the side of the road. The parents' nap is interrupted by the buzz of a cell phone, which turns out to belong to their young son. This is the first hint that there is something clandestine afoot. His mother reminds him that they had discussed before leaving home that there were no cell phones allowed, so she takes the phone away, removes the SIM, and hides it under a rock, promising to retrieve it on the way home.  This isn't done easily, as the kid played by the wonderful young actor Rayan Sarlak tries everything in his vast arsenal of excuses and manipulations to keep it. The kid is one of the joys of the film with his non-stop banter and effusive energy that keeps the family on their toes.
It turns out that the family is taking the older brother to the border illegally, though the younger brother cannot know this, though the reason for it is never clear. It is a delicate balancing act to keep this fact from the younger brother who could give them away to the authorities. So there is a tension throughout the film of danger just out of frame. But the beautify of the story is the family dynamic. The mother is trying her best not to break down over the impending loss of her son. The father who inhabits the back seat with his leg propped up in a cast attempts to control what is happening. The older son is lost in thought. And the younger one is questioning everything and seeing the trip as an adventure.
All the actors are amazing, particularly Pantea Panahiha who plays the mother. The camera loves her face wracked by the broad range of emotions she feels as they move closer and closer to saying goodbye, from laughing with her young son and singing along to the pop music on the radio, to a haunted look barely holding back tears. The kid will be the one most people remember for his dynamo performance and he is one great little child actor for sure.
Ultimately it's a very moving family drama, beautifully shot with a universal story of a mother's love and I highly recommended it.
In Persian with subtitles. Open now in NY and in LA (5/6). Keep an eye out for it when it comes to your local theater.