Currently browsing the "
Abortion

" tag.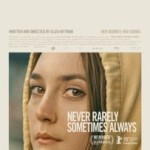 Never Rarely Sometimes Always is a film that I would surely endorse watching if and when there's talk again of overturning Roe v. Wade or further eroding abortion rights. But right now, when our focus is squarely on the Coronavirus and escaping the dread of the Coronavirus, Never Rarely Sometimes Always is a film that even ardent supporters may want to relegate to the back burner. Unless, that is, you're psychologically inclined to indulge in some at-home viewing that is reserved and grim and poignant and raw, providing an authentic take on one teen's intensely personal journey to abort an unintended and unwanted pregnancy.
Nanfu Wang has made a couple of my favorite documentaries of the past few years. Hooligan Sparrow followed a Chinese women's rights activist's journey and put both the subject and the filmmaker in danger. Her follow-up film I Am Another You took place in the US as she lived for a while with a charming young homeless man. In both films she was as much a part of the story as her subjects. In her newest film, which she co-directed with Jialing (Lynn) Zhang, she returns to China with her new baby to peel back the curtain on the country's horrifying one child policy and the toll the decades long social experiment took on the women of China. From 1979 through 2015 the Chinese government decreed that women could only have one child, and to that end millions of women were forced to have abortions, be sterilized, or abandon their children to human traffickers. It's a harrowing film as you hear the stories from many of the perpetrators who still think the policy made sense.