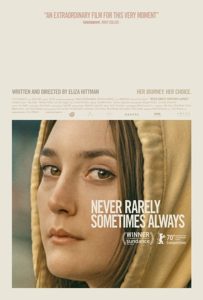 Never Rarely Sometimes Always is a film that I would surely endorse watching if and when there's talk again of overturning Roe v. Wade or further eroding abortion rights. But right now, when our focus is squarely on the Coronavirus and escaping the dread of the Coronavirus, Never Rarely Sometimes Always is a film that even ardent supporters may want to relegate to the back burner. Unless, that is, you're psychologically inclined to indulge in some at-home viewing that is reserved and grim and poignant and raw, providing an authentic take on one teen's intensely personal journey to abort an unintended and unwanted pregnancy.
Written and directed by Eliza Hittman (Beach Rats), Never Rarely Sometimes Always tells the story of Autumn (Sidney Flanigan) a 17-year-old in rural Pennsylvania who has to cross state lines, to New York City, to access the kind of confidential health care and support she needs. She's accompanied by her teenage cousin Skylar (Talia Ryder) and together they do what they have to do – on what little money they have – to get the procedure and get back home. Autumn and Skylar share a sisterly bond that is tested and strained and strengthened and demonstrated with minimal dialogue. Words aren't needed.
The supporting cast remains largely on the periphery, including Ryan Eggold as Autumn's douchebag stepfather (a far cry from the uber-compassionate doctor that Eggold plays on TV's "New Amsterdam"!) Never Rarely Sometimes Always is Autumn's story from beginning to end – and perhaps, the story of other teens lacking access to resources and support for preventive health care and family planning. IMDB lists the rating for this film as PG-13, and Rotten Tomatoes says NR (not rated), but it has a definite 'R' vibe. It's an understated drama that paints a slow, deliberate and sometimes very uncomfortable portrait of choices and consequences, judgment and compassion… a quietly compelling message movie that would likely prove quite divisive, and generate some heated debate – if our collective attention wasn't diverted elsewhere.
The film opened in limited release in theaters on March 13, but well, we all know what happened next. So the studio is making the film available to rent starting Friday, April 3, via participating on-demand services (Prime Video, Apple TV, Xfinity, Vudu, Google Play, Fandango Now) at a cost of $19.99 for a 48-hour viewing period.