Currently browsing the "
Adam Devine

" tag.
Isn't It Romantic unabashedly satirizes and celebrates the RomCom, a genre I just so happen to unabashedly embrace. So while the movie falls far short of the classics it draws upon for inspiration (Pretty Woman, My Best Friend's Wedding, 13 Going on 30, Sweet Home Alabama, Notting Hill, When Harry Met Sally…), it's still an entertaining watch. Isn't It Romantic seems hyper-aware of its flaws and limitations, closing with a cheesy musical number a mere 80 minutes or so after the plot – such as it is – begins to unfold, starting with a bonk on the head. You know the drill. Revel in it. Or recoil from it. Those are your only options.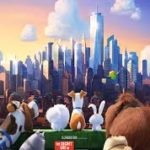 The Secret Life of Pets is one of those movies that is probably critic-proof because the trailer is so darn cute and promising that kids (and many adults too) will be eager to see it, no matter what. Still, I would be remiss to give it a glowing endorsement when I was, in fact, disappointed. I loved the first 15 minutes and the last 10 minutes of this movie. But everything in between dragged for me as the tone of the movie turned rather dark. The premise is awesome — what kind of lives are our pets leading when we leave them home alone for hours at a time? They party! They get together for walks! They watch telenovellas! The characters (dogs, cats, bunnies, snakes, etc.) are all well-drawn, and well-voiced by the likes of Louis C.K., Eric Stonestreet, Kevin Hart, Ellie Kemper, Lake Bell, Bobby Moynihan, Hannibal Buress, and Albert Brooks. My issue is with the shift in tone from fun animal adventure to animated crime saga. The Secret Life of Pets is certainly way better than recent duds Ratchet and Clank, Norm of the North, and Angry Birds… but not nearly as good as Finding Dory and Zootopia. Oh well. I may not have loved The Secret Life of Pets, but I do predict the movie will boost attendance at theaters, animal shelters, pet stores, and dog parks! There's also a cute short before The SLOP that features the Minions of Despicable Me fame.