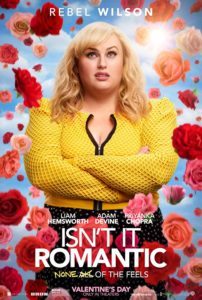 Isn't It Romantic unabashedly satirizes and celebrates the RomCom, a genre I just so happen to unabashedly embrace. So while the movie falls far short of the classics it draws upon for inspiration (Pretty Woman, My Best Friend's Wedding, 13 Going on 30, Sweet Home Alabama, Notting Hill, When Harry Met Sally…), it's still an entertaining watch. Isn't It Romantic seems hyper-aware of its flaws and limitations, closing with a cheesy musical number a mere 80 minutes or so after the plot – such as it is – begins to unfold, starting with a bonk on the head. You know the drill. Revel in it. Or recoil from it. Those are your only options.
Here's the gist: New York City architect Natalie (Australian actress Rebel Wilson, Pitch Perfect) appears to be lacking in personal and professional confidence. And despite an early childhood obsession with movies like Pretty Woman, adult Natalie is totally disillusioned with love. Then one day she is mugged and knocked unconscious on the subway platform (shades of While You Were Sleeping perhaps?). Natalie wakes up to find herself trapped in some sort of alternate universe, the leading lady in her own romantic comedy. Cynic that she is, Natalie doesn't exactly cheer her change of circumstance, or the fact that her romcom life is rated PG-13, a double-downer when you're being pursued by a hot, successful businessman named Blake (Aussie Liam Hemsworth, The Hunger Games).
Isn't It Romantic is packed with contrivances and clichés that permeate and define the storyline and supporting characters. Natalie's new world features a major upgrade in furniture and wardrobe, a gay sidekick, a best-friend-turned-foe at work, and mixed feelings about a sweet, nerdy co-worker named Josh (Adam Devine, Pitch Perfect) who ends up in an unlikely whirlwind romance with a gorgeous model/"yoga ambassador" (Priyanka Chopra Jonas, Baywatch). Cue the homage to the classic karaoke scene from My Best Friend's Wedding and the Thriller dance extravaganza from 13 Going on 30. (C'mon, who doesn't love those scenes!?)
Obviously, it helps to know your RomComs and Drams to recognize and appreciate all the winks and nods peppered throughout this movie (e.g. "You had me at hello-copter"). Otherwise, you're likely to get stuck on the fact that Isn't It Romantic doesn't have anything new to say. It leans on well-worn plot devices, a contrived set of circumstances, cheesy dialogue and exuberant musical production numbers to get by. So be it. It was fun while it lasted. Isn't It Romantic is harmless, forgettable fluff.
No Comments Yet
You can be the first to comment!
Leave a comment