Currently browsing the "
Priyanka Chopra

" tag.
Isn't It Romantic unabashedly satirizes and celebrates the RomCom, a genre I just so happen to unabashedly embrace. So while the movie falls far short of the classics it draws upon for inspiration (Pretty Woman, My Best Friend's Wedding, 13 Going on 30, Sweet Home Alabama, Notting Hill, When Harry Met Sally…), it's still an entertaining watch. Isn't It Romantic seems hyper-aware of its flaws and limitations, closing with a cheesy musical number a mere 80 minutes or so after the plot – such as it is – begins to unfold, starting with a bonk on the head. You know the drill. Revel in it. Or recoil from it. Those are your only options.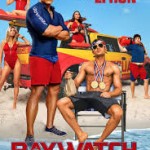 Prepare to wade into shallow waters! I mean, c'mon, it's Baywatch– the movie. Do you remember the television series? It's not meant to be deep. It's meant to be stupidly entertaining. And it is. Barely. For the most part, the film pokes fun at its soapy self, delivering what might have been a particularly raunchy, yet heartfelt "special episode" of the show, wherein the lifeguards get wind of a drug dealer in their midst and decide to bring down the bad guys (and gals) themselves instead of, you know, calling the cops.