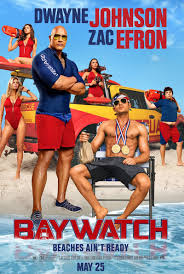 Prepare to wade into shallow waters! I mean, c'mon, it's Baywatch– the movie. Do you remember the television series? It's not meant to be deep. It's meant to be stupidly entertaining. And it is. Barely. For the most part, the film pokes fun at its soapy self, delivering what might have been a particularly raunchy, yet heartfelt "special episode" of the show, wherein the lifeguards get wind of a drug dealer in their midst and decide to bring down the bad guys (and gals) themselves instead of, you know, calling the cops.

Amiable strongman Dwayne 'the rock' Johnson stars as the heroic lifeguard and Baywatch leader Mitch Buchanan, the role made famous by David Hasselhoff in the 1990s TV series. The film opens with Mitch and his crew doing their thing – running in super slow-mo, clutching red floaties, saving lives, flexing muscles and bearing cleavage. Meantime, a bunch of lifeguard wannabees have gathered on the beach in Emerald Bay, Florida to participate in annual Baywatch try-outs. Ultimately, a few new recruits are chosen. They include Summer Quinn (Alexandra Daddario) and Ronnie Greenbaum (Jon Bass), a tech nerd who makes the team because of his determination more than his abilities. That determination stems from his sophomoric crush on bodacious lifeguard CJ Parker (Kelly Rohrbach).
Also on the team – selfish pretty boy Matt Brody (Zac Efron), a Ryan Lochte-ish Olympic swimmer who is assigned to Baywatch for the dual purpose of fulfilling community service as part of a plea deal – and boosting the Baywatch brand. Gee, I hope he can learn how to be a team player in time to help save the Bay from villainess drug queenpin Victoria Leeds (Priyanka Chopra, Quantico) and her evil henchmen! (spoiler alert: Matt and his eight-pack abs come through in the end). Not a spoiler: the film features cameos from Baywatch originals David Hasselhoff and Pamela Anderson. Their names even appear in the opening credits – seemingly more out of 'respect' than actual screen time. It had to be done.
Bottom line: Baywatch offers up a sophomoric tribute to the classic television cheese-fest and beef-cake fest that somehow survived more than 10 years and various cast iterations (between 1989 and 2001). The movie doesn't rise to the level of 2012's big-screen treatment of 21 Jump Street (the show that made Johnny Depp a star). Ironically, however, it is more entertaining than that other movie seeking to make waves at the box office this Memorial Day weekend — Pirates of the Caribbean: Dead Men Tell No Tales — with none other than Johnny Depp. Yes, the unofficial summer movie season has officially arrived. Buckle up. It's gonna be a bumpy ride.