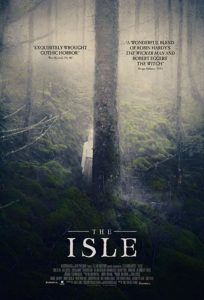 The Isle is for the horror flick lovers out there. It's set in 1846 on an island off the coast of Scotland that is shrouded in mist. Three survivors of a shipwreck row ashore to find it nearly abandoned. But then they meet the only four people still living there, a couple of women and a couple of men. And they can tell that things are not normal, and the island folks are not opening up about what happened to all the others who lived there, and the 3 men really want to get off the island, but can't seem to find a way. Then they start dying. It takes some time for the men to figure what's happening, and once they do, they're powerless against it.
The film is based on a Scottish folktale that includes some Greek-style sirens who lure men to their deaths. Being on a wild looking island, it's super atmospheric. There's not a lot of dialogue either, though there is the usual,"something is wrong with this place" dialogue between the men. This is not a mainstream flick by far. It's pretty slow and you have to buy into the horror flick trappings. But if horror is your thing, go for it. Trailer below.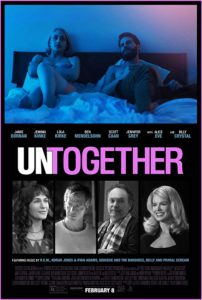 And on an entirely different note… Untogether is an odd little indie rom-com-dram. In it two sisters (real life sisters Jemima (Girls) and Lola Kirke (Mistress America)) live together in the hills of Los Angeles. Andrea (Jemima) lives in a tree house and is a newly sober writer who hasn't been able to find her mojo since she got that way. Sister Tara (Lola) is a massage therapist whose older rocker boyfriend Martin (Ben Mendelsohn, Bloodline) lives with them. And as Tara's relationship with her boyfriend cools, Andrea hooks up with hot doctor Nick (Jamie Dornan, 50 Shades, A Private War) who's written a bestselling memoir. Add to the mix Lola's decision to return to her Jewish roots after giving Rabbi David (Billy Crystal) a facial, and you have a sort of convoluted plot, which is semi-entertaining at times, but mostly just a mess.
The main problem with the film is the disconnect between all the narratives. The first-time writer/director Emma Forrest serves up some interesting relationship exposition, but can't seem to find a way to relate the stories to a greater whole. And I didn't really care about anyone, except maybe Andrea. Untogether has a great cast, and it is nicely shot, but it ultimately falls flat. Let's hope Forrest finds a good writer to team up with for her next outing. It's in theaters and streaming on Netflix. Don't bother running out to a theater for it.
No Comments Yet
You can be the first to comment!
Leave a comment