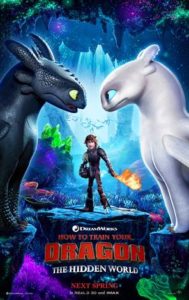 I must confess: I did not see the first How to Train Your Dragon movie in 2010. And I found the 2014 sequel to be rather dark. Regardless, both films seemed to resonate with a lot of kids and adults. So I felt compelled to see the third and final installment of the trilogy, so at least I'd know how the story ends. Fortunately (and somewhat surprisingly) the story plays out quite well. How to Train Your Dragon: The Hidden World offers up a satisfying conclusion for fans of the animated saga, based on the books of Cressida Cowell. The books – and movies – chronicle the adventures of a young Viking, Hiccup Haddock (voiced by Jay Baruchel), and his "Night Fury" dragon pal Toothless.

How to Train Your Dragon: The Hidden World takes the story back where the books begin – with an adult Hiccup reflecting back to a time when there were dragons living alongside humans. It's the culmination of a coming-of-age story for both Hiccup and Toothless. Both have been growing into leadership roles in their respective Viking and Dragon tribes. And both have love interests: For Hiccup, it's his trusted Viking Warrior friend Astrid (voiced by America Ferrera), and for Toothless, a new dragon on the scene dubbed "Light Fury". Let the dragon sparks fly!
The HTTYD movies have an emotional resonance that's similar to (but not as good as) the Toy Story movies. No matter the villain du jour (in this case, the evil Grimmel the Grisly dragon trapper voiced by F. Murray Abraham) or the various obstacles to peace and harmony on the Norse island of Berk, Hiccup and Toothless will surely find a way to prevail. Vikings and Dragons may ultimately have to go their separate ways but the bond of friendship is forever.
I'm a sucker for a sweet message movie. So while I still don't love the franchise as a whole, all's well that ends well. That is – until the filmmakers (or Hollywood bean counters) decide there's got to be more to the story.