Currently browsing the "
adoption

" tag.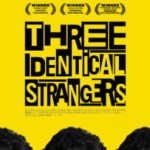 Three Identical Strangers is a fascinating documentary that runs the gamut from joyous and surreal to shocking and sad. It tells the story of three complete strangers – Bobby Shafran, Eddy Galland, and David Kellman – who serendipitously discovered, at the age of 19, that they were identical triplets who'd been separated at birth and adopted by three different families in New York. Their story became a tabloid sensation in 1980 as the trio quickly bonded and capitalized on their newfound fame. But that's just part one of the story. The second part is far more sinister, revealing details of the brothers' adoption and their families' unwitting participation in a secret psychological study about human behavior and nature versus nurture. It's the type of documentary that tells a great story and lends itself to plenty of discussion and debate long after the credits roll.
I'm not quite sure how I ended up watching Mother and Child instead of Shrek 4 this weekend, but I think it was the casting that ultimately roped me in. Annette Bening, Naomi Watts, Kerry Washington, Samuel L. Jackson, Jimmy Smits. Really – how can you go wrong? Performance-wise, you can't. These pros can make anything watchable. But the movie does have some major flaws in character development, and I'd be hard-pressed to recommend it except to those particularly interested in the subject of adoption.